[3 mins read]
To assist the seniors with digitization, the Infocomm Media Development Authority (IMDA) established the Seniors Go Digital program, providing guides and information to help seniors catch up with the technologies that would be beneficial for them.
This learning program provides seniors with three tiers of digital skills:
Communication (Making video calls, file messaging, and so on)
Government Services & lifestyle (Access Government digital services- Singpass/ Safe entry and so on)
ePayments & digital banking- Internet banking, cashless payment at markets & hawkers, and cybersecurity tips
There are three ways for seniors to pick up new digital skills:
In addition, to encourage digitization for the seniors, service providers like Singtel, Starhub and other providers had also come up with simple and affordable mobile plans exclusively for Seniors.
Unfortunately, seniors are also one of the most vulnerable age groups targeted by cybercriminals. Often believed to have a lack of understanding of the cyber threats and trends, made them the perfect target for cybercriminals.
Ensure a Cyber safe environment for our seniors: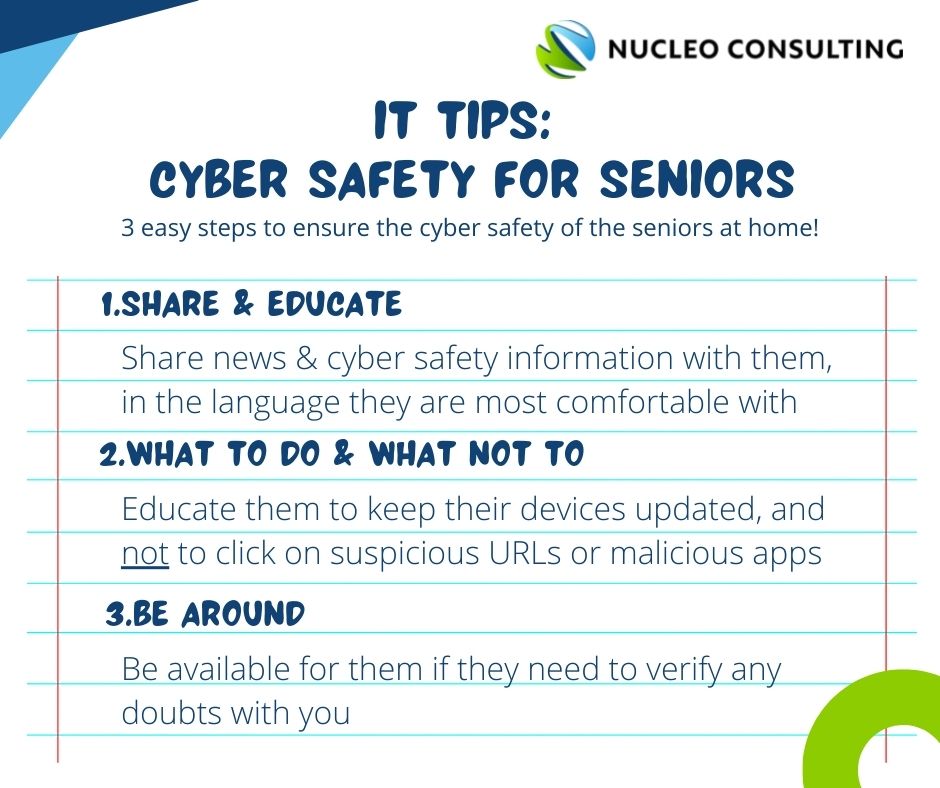 1. Share & Educate
Information such as news, cybersecurity tips, and digital guides can be easily found online. Share information with them to ensure that they are well updated on the latest cyber threats and cybersecurity tips to keep themselves safe while connected to the internet. It is important for seniors to understand that what they see online, may not be always true! Ensuring that they know how to verify the source of information so that they can avoid spreading fake/unreliable news to their peers!
The Infocomm Media Development Authority (IMDA) has published useful tips on cybersecurity and scams, available in English, Mandarin, Tamil, and Melayu for seniors to learn and understand them better.
The Cyber Security Agency of Singapore (CSA) has also published some useful resources available online, for educating the seniors on cyber security.
Here's an example of how you can share useful information with the seniors in your household in an effective way:
2. What to do & what not to
Ensure that their devices are locked with a strong password or passphrase. Many seniors use an easy password so that they can remember it better. However, it is important to let them know why a strong password is necessary- it is the FIRST layer of security to your devices/accounts.
Keeping them updated on common scams and IT Tips to combat cyber threats would also encourage them to learn and avoid being the next victim. Also, keeping the software of their devices up to date would ensure that it is updated to the latest features, bug fixes, security, and performance of the device. Share with the seniors the importance of keeping the software of their devices up to date and ensure that they know how to update the software of their smartphones, tablets, and any devices they used to connect to the internet.
3. Be around
There are various programs and information on the internet that are useful in educating and ensuring a cyber-safe environment for seniors. The Government had also introduced some free online resources and mobile applications (Scamshield-for iOS devices) to help with the security of our seniors.

The most effective way to prevent them to become victims of cyber threats is to let them know that they are not alone and let them know that they can speak to you whenever they're in doubt.
---
---