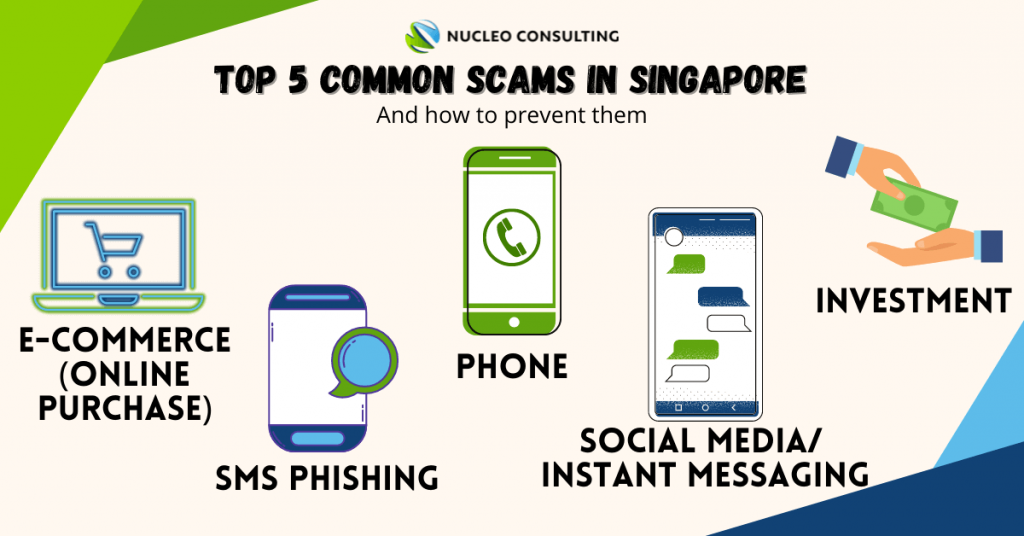 The evolution of technology is a double-edged sword.
Technology has became an essential part of our lives, and for many of us, it is no longer an option. Criminals has also made use of the technology for preying on their victims, making cyber crimes 43% of Singapore's overall crime in 2020.
There are many different types of cyber crimes that were identified. You may even have came across some of these:
1. Online Purchase (E-Commerce Scams)
Many individuals have turned to online shopping due to the convenience of making a purchase without having to step out of the house. Many of us turn to official online stores for purchases, while some buyers choose to search for cheaper alternative on platforms such as Carousell- an online marketplace where users may register an account to sell new or used items, products or even services.
In Oct 2021, a 25 year Carousell seller was arrested for e-commerce scams. More than 100 victims were reported, losing more than S$114,000. The police have urged members of the public that "if the price is too good to be true, it probably is".
Buyers are advised to shop at the official store or reputable source online to avoid being the next victim of such cases. Ensure that your accounts are well protected with a strong password, especially for those you have linked your credit cards to. Buyers using platform similar to Carousell should choose to meet up with the seller, inspect the goods before paying, or to read reviews on past transactions to ensure the seller is legitimate.
2. SMS Phishing Scams
As the name suggests, 'phishing' refers to the fraudulent act of 'fishing' out sensitive information such as personal identification number, credit card details and passwords. These details will then be used in scams for the benefit of the cyber criminal. Most of these SMSes are embedded with suspicious URL links and carefully crafted messages to invite unwary individuals to click on them.
As you may have heard from the news earlier this year, nearly 470 OCBC bank customers have fallen for the SMS phishing scam, losing more than $8.5million in total. Many victims lost their life savings in just a few minutes.
It is recommended to visit the official website or use the official mobile application to access your banking account at any point of time. Beware of any suspicious links shared or sent to you via SMS, WhatsApp or other instant messaging platforms. Always check with the bank/ service provider if you come across any suspicious messages/activities. Make sure that your accounts are well protected by a strong password, and do not share it with anyone. For Apple (iOS devices), you may consider installing the ScamShield application to block out spam calls and messages.
3. Phone Scams
Have you ever received calls from courier companies, mentioning that your parcel is with them, requesting you to make a payment for the delivery? How about threatening calls that your child has been kidnapped, asking you to pay a ransom? These tricks have been pretty common and have been circulating for years. These spam calls are usually targeted to phish out personal/ sensitive details or, to scam unwary victims to make monetary transactions for the benefits of the cyber criminals.
To be safe, avoid answering calls from an unknown caller, especially if it's not a local number. If it starts with '+', it's most probably from overseas. Do note that Singapore numbers no longer starts with '+65'. Do not disclose your personal details such as your NRIC, passport number, address or credit card details. When in doubt, always check to confirm before panicking or making the payment.
4. Social Media & Instant Messaging Communication Scams
A compromised social media or instant messaging account may be more destructive than you think. It contains more than just your personal information, and might also contain the contact details and personal information of your family, friends or business clients. Hackers may use your account to get in touch with those in your contact list for committing the scams. Victims will most likely fall for the scammer's trick, believing that it was the account holder's message instead.
Last year, the police have warned members of the public of scam technique involving compromised WhatsApp accounts. Scammers used the 'Voicemail method' to take over the WhatsApp account and prey for victims among the contact lists of the hacked account, where the victims were offered gold bars 30 percent below market rate.
Have you turned on the two-factor authentication for your social media or instant messaging account? Making sure your accounts are safe would be of great help in reducing risk of related scams for your loved ones! Always verify information sent to you with the sender in person. If you have received these messages, contact your friend/family via another messenger platform or call them directly to verify! Purchases should also be made from an authorized seller, reputable/reliable sources.
5. Investment scams
You may have heard about these years ago. Investment scams have made a come back these years thanks to the convenience of instant messaging platforms such as Telegram, WhatsApp and Facebook messenger. Scammers usually get your contact through someone who have 'referred' you (cold call) or mass invitation into chat groups within these instant messenger platforms to offer you a chance of a lifetime- to get rich QUICK. Unfortunately, the ones to get rich are the scammers in this case.
Cryptocurrency has been a hot topic among younger investors in the recent years. The cryptocurrency scammers have also been identified to be using the same techniques to talk investors into fake investments.
Investors are advised to look out for red flags such as high returns, referral commission, falsified experience/track records, limited time offer or claims to be regulated.
Nothing appeals investors more than the promised high returns from the investments. These scammers know just the way to attract potential victims to their fake investment schemes. Be wary of investments schemes which promises to have returns that are too good to be true. Generally, legit investments do not offer incentives such as referral fee or commissions to investors. This is again, a common technique used by scammers to bring in your friends or family into their scheme. Pressure- also a technique used by a scammer to rush you into making a decision fast. By telling investors 'the offer is ending soon' will often pressure investors to make a commitment to their scheme without having enough time for investors to obtain more information or a chance to think through!
Investors are recommended to check if a company is regulated for providing financial services through the Monetary Authority of Singapore (MAS) Financial Institution Directory, and access the opportunity for investments based on facts via reliable sources/information before committing.
---
There are many other scams out there and scammers will come out with new techniques and improvise ways to get what they want. The damages of these scams are destructive not only for businesses but individuals as well. Don't fall for their tricks and stay vigilant. Don't believe in what is too good to be true and always verify the information before deciding on your next action.
In the unfortunate event where you have become the victim of a scam, you may contact the National Crime Prevention Council on the Anti-Scam Hotline (1800-722-6688), or email them at enquiries@ncpc.org.sg.
For more information on scams, visit Scam Alert at https://www.scamalert.sg/.
---
---
ITtips | scams | scam prevention | scam alert | Cyber defenses | cyber attack | cybercrimes
---