[2 mins read]
Technology plays a significant role in how we live and work. As technology continues to advance, it is essential to stay tuned to the latest tech trends and innovations. No matter for work or play, technology plays an important role in enhancing user experiences.
There are several emerging trends that are poised to have a crucial impact on various industries in 2023. Here are the top 5 exciting tech trends to look out for this year: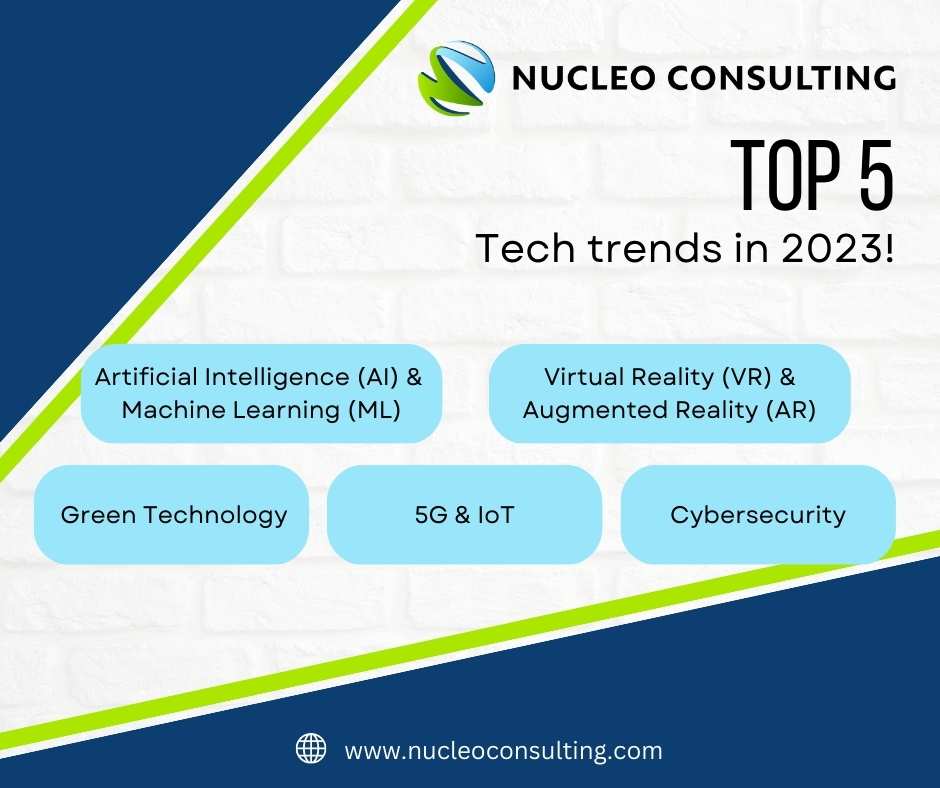 1. Artificial Intelligence (AI) & Machine Learning (ML)
Artificial Intelligence (AI) and Machine Learning (ML) are technologies that have already been revolutionizing several industries in the past years and are expected to continue this year. They have successfully helped businesses achieve better efficiency by automating repetitive tasks and assisting businesses to make better-informed decisions.
AI and ML are widely used today. AI-powdered customer service, predictive maintenance, detecting frauds and chatbots are some examples of how they have made their way into our daily lives.
AI and ML are expected to be a huge trend in 2023. with more industries adopting this piece of technology, we are likely to see more AI and ML innovations emerging soon.
2. Virtual Reality (VR) & Augmented Reality (AR)
Virtual Reality & Augmented Reality (VR/AR) technologies are also not new to many people. In fact, they have been increasingly adopted in various industries such as the entertainment industry, healthcare industry, and education industry.
In 2023, we are more likely to expect increasing adaptation of VR and AR into various different industries. We would also be likely to see more innovative applications of VR and AR in areas such as virtual therapies, and remote collaboration.
3. Green Technology
Global warming has been a worldwide long-term challenge for decades. Industries have been working on reducing or reversing the global warming effect by implementing environmentally sustainable ways to their work processes. Green technology refers to technologies that are environmentally friendly and aim to reduce or reverse the negative impact on the environment.
Being a small country that lacks natural resources, Singapore is taking firm action on building a sustainable future. With The Green Plan in place, we will be expecting to see more adaptation of green technologies in Singapore. As part of the Green Plan's key target, we are likely to see the increasing deployment of solar energy and cleaner-energy vehicles (Hybrid or Electric vehicles (EV)) this year.
4. 5G & IoT
The deployment of 5G networks is expected to accelerate globally in 2023, leading to new and innovative applications for the Internet of Things (IoT) technology.
Singapore is the first country to be fully covered by a standalone 5G network. The 5G technology offers faster and more reliable data transfer, which is crucial for video streaming, video communications and autonomous vehicles. With Singapore being 5G-ready, we can expect to see increasing progression with IoT technologies and the widespread adoption of IoT devices in homes and offices.
5. Cybersecurity
Digitization has been a key driver of economic growth and development in Singapore. Especially in recent years, where Small and Medium Enterprises (SMEs) were strongly encouraged to step on their digitization journey.
Technology is a double-edged sword. Although it has brought us convenience and efficiency, it also made cybersecurity more complex. With the increasing use of smart technologies, IoT technologies, and online transactions, the demand for robust cybersecurity measures remains the top priority in 2023.
No doubt, there will be new techniques and cyber threats developed to exploit overlooked vulnerabilities such as misconfigurations. It is crucial for businesses to strengthen their cyber security to prevent known cyber threats. On the other hand, businesses should also be prepared to face new cyber threats. This can be achieved by upgrading cyber defences through regular maintenance of your network equipment and investing in cybersecurity training and awareness programs to equip employees with the capabilities to identify and respond to potential cyber threats.
---
As technology continues to evolve and advance, it is essential to stay informed and adapt to the changing landscape. By doing so, companies and individuals can take advantage of the many opportunities and rip the benefits that technology has to offer.
---
---