Cyber Security- the top-grossing topic among users of the internet. Protection against cyber threats is everyone's responsibility, not just the business owners.
Generally, many employees have the mindset that so long their devices are installed with antivirus software, they are safe from cyber threats. The truth is unfortunately not as simple.
Corporate data/ information
Depending on the industry your organization is in, your company collects all sorts of sensitive data and confidential information. Some of the information may include:
Employee information
Customer/ Client data
Financial information
Legal contracts and documents
Business planning and strategies
Company's intellectual property.
As an employee, you have the responsibility to protect all information, data and property of your company. Here are 5 tips you must follow to ensure the data within your company is secured: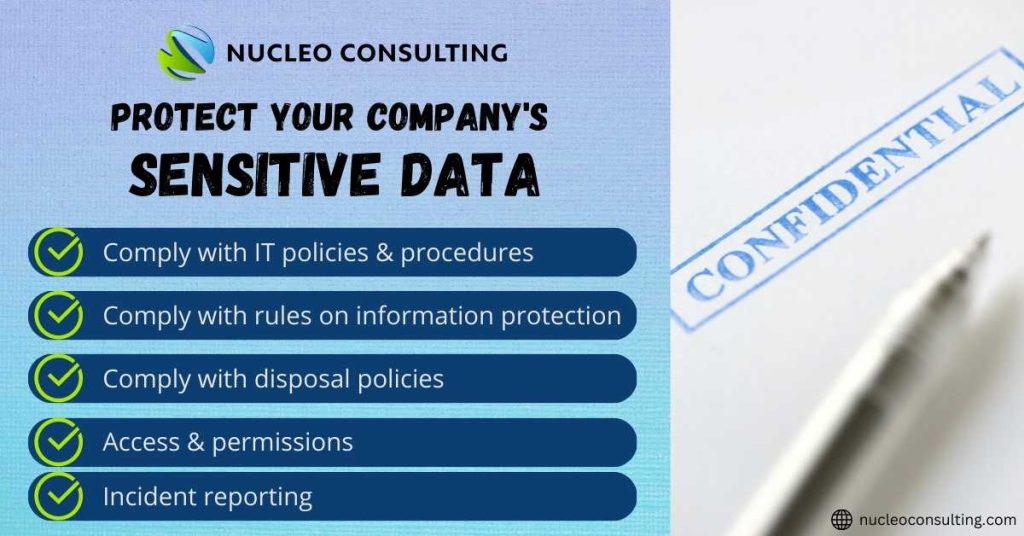 Comply with IT policies & procedures
Every company has their own IT security policies and procedures to ensure the security of its digital assets are well protected. These policies provide information on the rules and procedures for using, storing, backing up, or deleting the company's data. It also works as a guideline for employees to know how to handle the data/ information properly and in a secure manner.
It is important to always ensure that you remain compliant with these policies whenever you are handling information. Don't get yourself and your company into trouble for any unintentional errors!
Comply with rules on information protection
If your company is collecting sensitive information, do keep the laws and guidelines in mind.
As you may know, there are data protection laws that govern the collection, usage and disclosure of an individual's personal information. The Personal Data Protection Act (PDPA) was introduced in 2012, in view of promoting awareness of data protection in Singapore. Other countries may also have their own laws and regulations on data protection to comply.
The consequences of data leaks are more destructive than you think. Apart from huge financial penalties, your reputation, future opportunities and career are all at stake. Think before you act, and always handle information with care!
Comply with the disposal policies
There are many types of sensitive data and they can be hard copies or soft copies. Some may be sitting on your desk, or in the rubbish bin (not shredded). While others may be stored on your computers, mobile phones, or storage devices. No matter where and how you store them, it is important to handle them with care and comply with your company's disposal policies.
Our devices usually contain a lot more sensitive information than we think. Companies may require you to wipe out all data securely before disposing of these devices. Don't let cyber criminals get to your sensitive information too easily!
Access & permissions
Depending on your job functions in the company, you would have different access rights from some of your colleagues in the other departments. These access rights and permissions are to be followed strictly at all times.
If you have to use some documents but do not have access rights, notify your management or the person in charge. Accessing data without proper permissions is an offence and may result in a penalty depending on the individual company's policy!
To prevent any insider threats, avoid lending your computers to anyone, even if it's for a short while. The damages of insider attacks are costly for businesses and could lead to devastating consequences!
Incident reporting
Don't be afraid to report! Even if you cannot confirm that the sensitive information is compromised, report it immediately. Let the IT professionals in your company investigate and resolve the situation.
Cyber attacks spread faster than you can imagine. Intruders/ cyber criminals are often highly skilled and can cause destructive results to you and your company.
---
Unfortunately, there is no silver bullet in cybersecurity, and employees are the organization's first line of defence. Everyone plays a part in cyber security, not just the bosses!
---
---
Cyber Security | IT Tips | Data Breach | Data Protection | Cyber Attacks | Data Security