[3 mins read]
Cybersecurity remains a major concern among business owners. There is no 'one-size-fits-all' solutions when it comes to cyber security, thus, choosing the right protection is crucial for securing your business's network. While there are many different products that offer robust cybersecurity solutions, many still struggle to find the right fit for their organisation. What works for others, may not necessarily be the best for your business.
A firewall acts as a barrier between the internal network and the Internet, protecting against potential threats and unauthorized access. With so many options available, it can be challenging to determine the best fit for your business.
One of the options that stand at the top of the chart is the SonicWall Firewall. SonicWall has been providing top-notch security solutions for over 25 years and is trusted by thousands of businesses globally. Here are the top 5 reasons why SonicWall would be an excellent choice for your cybersecurity: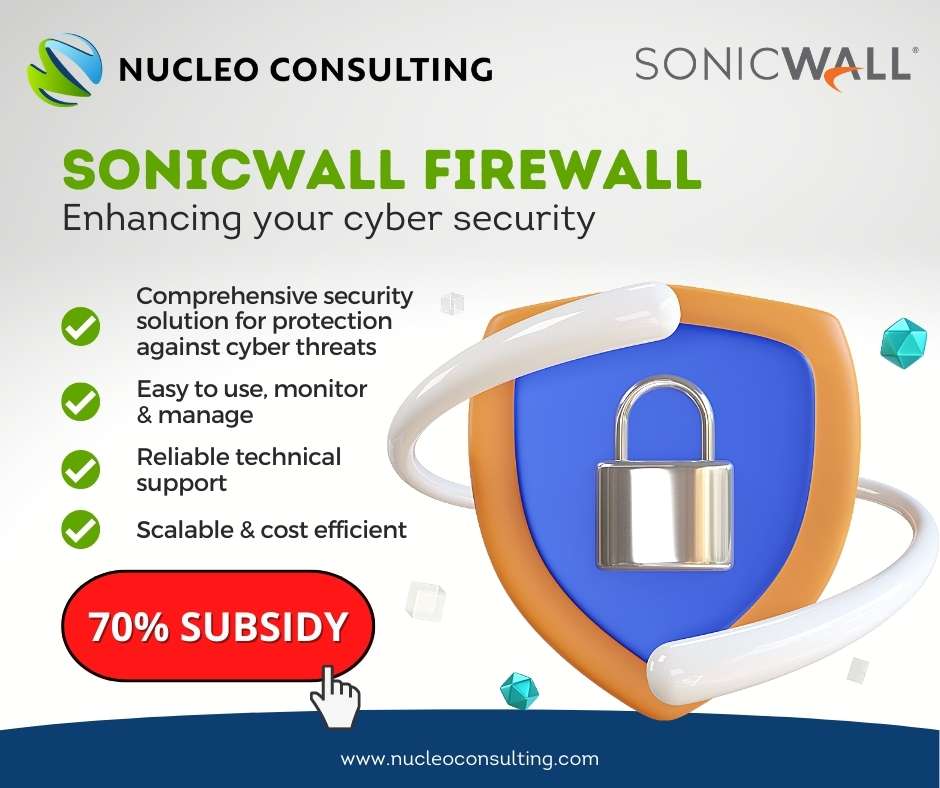 1. Security Features
SonicWall offers a full suite of security features, which includes a wide range of next-generation firewalls (NGFW), intruders prevention, antivirus protection and content filtering. These features works hand-in-hand to provide a comprehensive defense against cyber threats such as hackers, ransomware, and viruses.
2. Scalability
Scalability is one key feature you should not overlook. As technology advances, the requirements on systems and processes increases. No matter how big or small your business is, the ability and flexibility to adapt to your business' needs is critical for reliability and performance of your cyber defenses.
SonicWall Firewall is designed to grow with your business. SonicWall offers scalable solutions that can be customized to meet your company's requirements. Whether you have a small office or a large organization, SonicWall has a solution that would be a good fit for you.
3. Ease Of Management
Like all network equipment, a firewall requires managing and maintaining. SonicWall Firewalls offer user-friendly interface that is easy to use, easy to monitor, and easy to manage. The intuitive interface reduces the risk of human errors.
In addition, SonicWall's centralized management platform allows administrators to manage multiple firewalls from a single location, reducing man hours required for managing and maintaining the firewalls.
4. Technical Support
Firewall is a critical component for your network security. Any misconfiguration, errors, or unmaintained firewalls can cause your network to be vulnerable to cyber attacks, which may have serious consequences to you business.
Since a firewall is designed to provide round-the-clock protection, it is important to have reliable technical support to turn to in case of an emergency. SonicWall offers 24×7 technical support to help you out in case of emergency, with knowledgeable technicians to provide you with the required assistance.
5. Cost Efficiency
SonicWall Firewalls offers a wide range of firewall solutions that can be customed to the requirements of your business, from entry-level models to advanced models with additional features and more capabilities.
Compared to other firewall solutions, SonicWall Firewall is generally reasonably priced. With its comprehensive security features and other benefits SonicWall offers, it's definitely a cost effective option to a robust cybersecurity solution.
In addition, Nucleo Consulting offers a PSG pre-approved SonicWall Firewall solution, making SonicWall firewall solutions even more affordable for small and medium enterprises (SMEs) in Singapore. Eligible SMEs may leverage the Productivity Solutions Grant (PSG grant) and get 70% subsidy on the firewall solution.
---
In conclusion, choosing the right firewall is crucial for the security of your company's network. SonicWall Firewall stands out at the top of the chart, with comprehensive security features, scalability, ease of management, strong technical support, and cost effectiveness. No matter how small or large your business is, you will definitely find a SonicWall Firewall model that is suitable for your company.
---
---
IT Tips | Firewall | Cybersecurity | Cyber threats | Grants for SMEs