The Singapore Police Force (SPF) had released news on a new phishing scam where the scammers impersonate OCBC Bank, sending phishing text messages via SMSes to their targeted victims. This new scam has reported to have raked in 469 victims, with the total loss of more than $8.5 million in the month of December alone.
An earlier report showed that the scam victims of the top 10 scam categories have lost approximately $168 million in the first 6 months of year 2021. Reported scam cases also shown significant increment of 16 percent, with an overall crime increment of 11.2 percent in the same year.
With the every-growing technology, cyber criminals get creative on how they can make use of these technologies to gain profit out of the cyber crimes.
SMS alert from OCBC Bank
According to the Singapore Police Force (SPF), victims would receive an SMS with embedded URL link, claiming that there were issues with their bank account. Victims would then have to click on this fake link, where they would be asked to provide their mobile banking details to log in and rectify the issue. Victims only realized being scammed after receiving notifications regarding unauthorized charges to their bank accounts.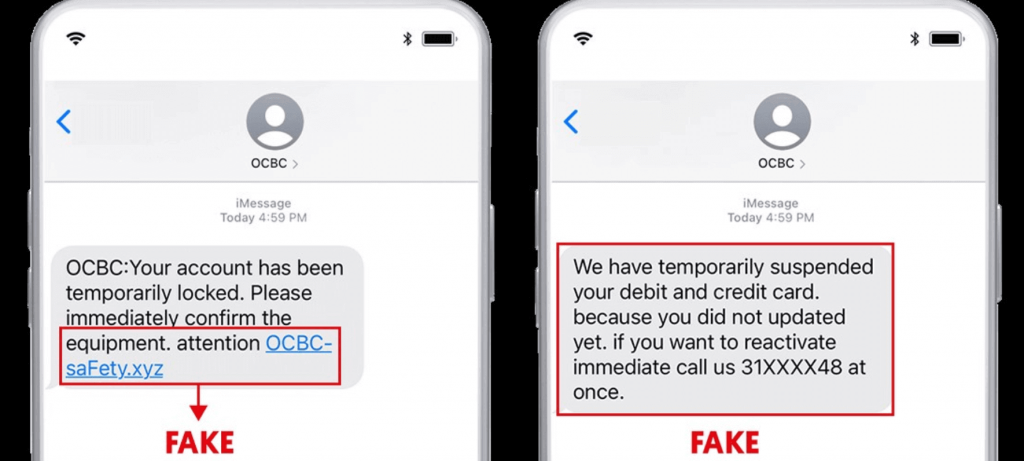 (Source: OCBC Bank)
OCBC Bank has released news on these phishing scams on 23 December 2021, on how the scammers impersonate them, sending out phishing SMSes to victims. The Singapore Police Force (SPF) has also issued advisory to warn the members of the public not to fall into these scams.
---
Preventive measures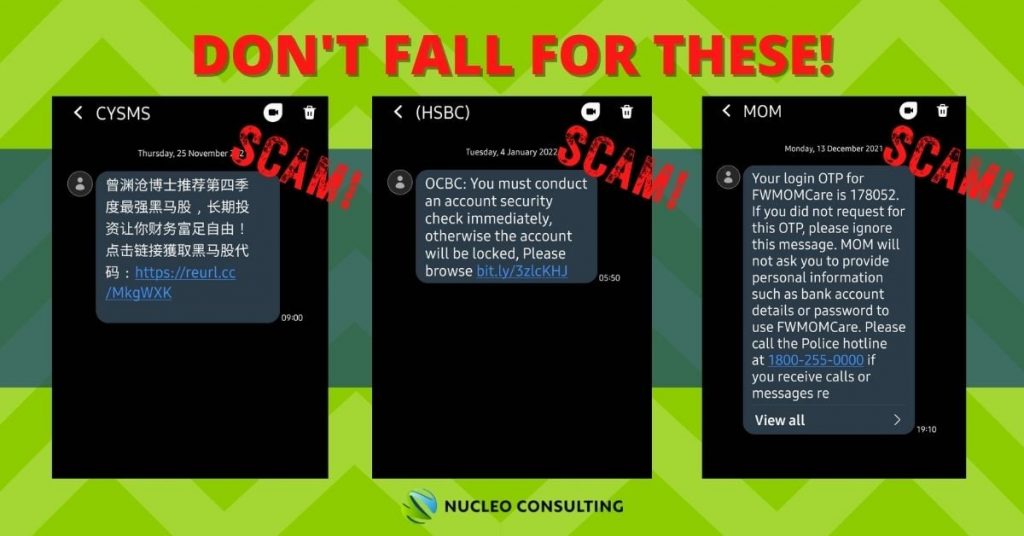 (Other spam SMS received recently)
DO NOT CLICK
Avoid clicking on malicious URL links embedded in the text messages. Bear in mind that OCBC banks does not send out SMSes containing Bit.ly links.
VERIFY
Always verify when in doubt. Check the official website or reliable sources to verify authenticity of the messages.
DO NOT DISCLOSE
Keep personal details to yourself. Do not share/disclose personal, banking details or 2FA/OTP to anyone.
REPORT
Report all fraudulent or unknown transactions to your bank immediately.
---
Users may wish to introduce ScamShield- a FREE solution to scam calls & messages to the elderly and children in the household for better cyber security for them. It is also important to educate them, equipping them with relevant knowledge on cyber awareness so that they can enjoy the cyber world safely. Like we always say, it is better to be cyber-safe, than sorry.
For more information on scams, visit scamalert.sg or reach out to the Anti-Scam hotline (1800 722 6688).
---
cyber essentials | cyber safety | scams | cyber security
---