New Generation – Windows 11
After the launch of Windows 10 six years ago, Microsoft introduced a new generation of its Windows software. The new Windows 11 is said to have improved visual features, such as new Start button, modernized task bar and other new features designed to boost the speed and increase efficiency. It is also expected to be more compatible to third-party applications with improved user interface.
Windows 11 is expected to be available to more users later this year. It will be available for free upgrade for existing Windows 10 users, and on new computers and other windows devices.
(Source: CNA)
---
System Requirements
While we have seen wonderful improvements of the new Windows 11, it is not suitable for every devices. If your device does not meet the requirements as listed, you may not be able to install Windows 11, thus, it is not recommended for users to install Windows 11 onto older devices.
The image below shows the basic requirements for installation of Windows 11 on a PC. Additional requirements may be needed for updates over time, and for some specific features within the operating system.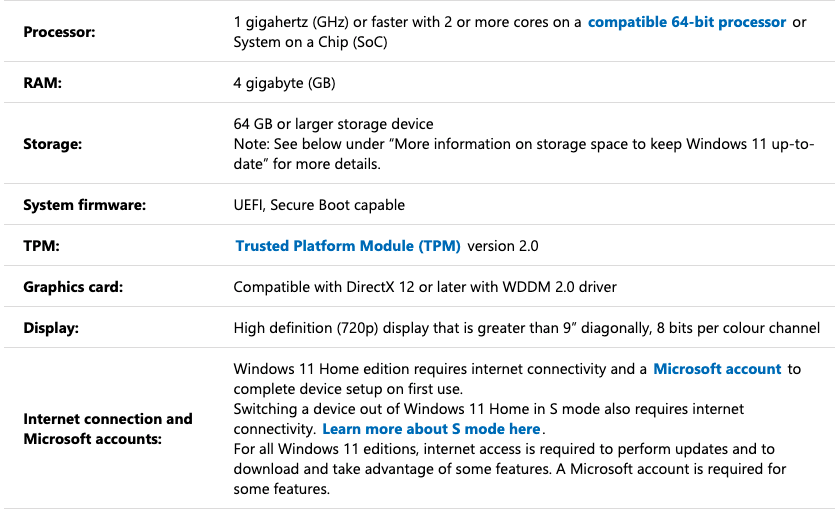 ---
Yay or Nay?
Despite the excitement for the new improved features coming along with Windows 11, Sandra Yeow, the Director of Nucleo Consulting Pte Ltd, would not recommend her customers to upgrade to Windows 11 yet. This is to avoid any disruption to the users' printers and other software which might not be compatible. If you have done so accidentally, follow the guide below to rollback to Windows 10.
---
---