Did you know, your browser keeps a record of your browsing history whenever you surf the internet?
Most web browsers we use keep records of our browsing history, cache, cookies and temporary files of the websites you visit by default. These records help to speed up loading and response time of the website you have visited, making your online experience faster and easier.
What is Incognito/ Private Mode?
While the setting to keep such records is default, most browsers also give users the option to go "private", which means that the browsing history, caching, cookies and other temporary files will not be recorded.
Every browser has a different name for the 'private mode'. Here is how you can use the private mode in the these browsers below: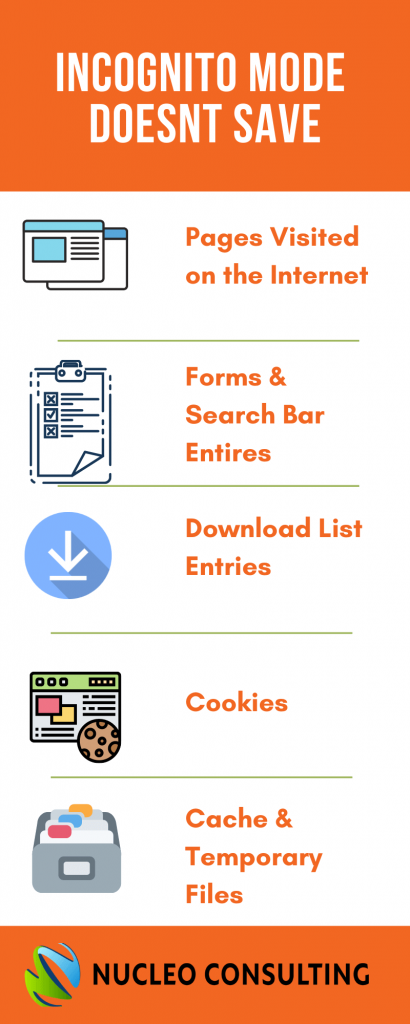 Incognito/Private browsing doesn't save:
Visited Pages: No browsing history will not be added to the list of sites in the History menu.
Forms and Search Bar Entries: Nothing you type into the search bar is recorded or saved.
Download List Entries: browsers will not show you the downloaded items list from Incognito mode.
Cookies: Cookies store your browsing history and session information, site preferences and login status. These are typically used by third party websites and advertisers to track you from one site to another on the internet. Cookie will be deleted after your session in the incognito/private mode.
Cached pages & Temporary Internet Files: These are temporary files stored on your computer to help you reduce site loading time whenever you next visit the same site. Such files are also removed after browsing in the Incognito/ private session.
Going 'Private' does not mean 100% privacy
While going 'private' may save you some storage space, it is important to note that going 'Incognito' or 'private' does not grant you 100% privacy. Even though your browsing history is not visible to others, some may still have a record of your activity even if it's relatively anonymous.
For instance, if you have visited the Singapore government website using private browsing, the analytics may have recorded your on-site activity even though your device wouldn't. In addition to that, some websites you have signed into (Facebook/ Instagram/ Twitter etc) might still keep records of where and when you accessed your accounts too.
Even at work, your network administrator may have access to override an individual's browser settings, to keep records of all browsing history. Working from home? Well, your internet service provider may also have the records of your online activities despite using incognito/ private mode for browsing the internet.
For greater privacy, you may consider using the Virtual Private Network (VPN), that conceals your IP address – the unique identifier your terminal/ device is assigned on the internet. It encrypts the data you send and receive over the internet and helps to ensure that the websites you visit don't know who you are or where you have logged in from.
---
Conclusion
In summary, the incognito/ private mode provides privacy as it does not save data such as your browsing history, cache, cookies and other temporary files. However, this option is not 100% private. It does not protect your privacy from Internet Service Providers (ISP) or hackers who are trying to steal your personal information. Meanwhile, you may consider using the VPN which provides better coverage as the data you send and receive over the internet would be encrypted.
Businesses are recommended to have a Firewall in place as it provides them with greater control over their network traffic, and greater prevention against cyber threats like intruders and ransomware. No company is too big or too small for cyber threats.
---
Private browsing | Incognito mode | Privacy | Cyber defenses | Cyber threats | IT Tips
---