In views of closing the gaps between users and IT support, we launched our first mobile application- Nucleo Connect.
Nucleo Consulting aims to become the IT department for our clients, no matter how big or small you business are. With Nucleo Connect mobile application, we hope to bring IT support closer and easier to you.
The Nucleo Connect mobile application is now available for Android devices and iOS devices. Click on the button below to download the app now!
---
User Guide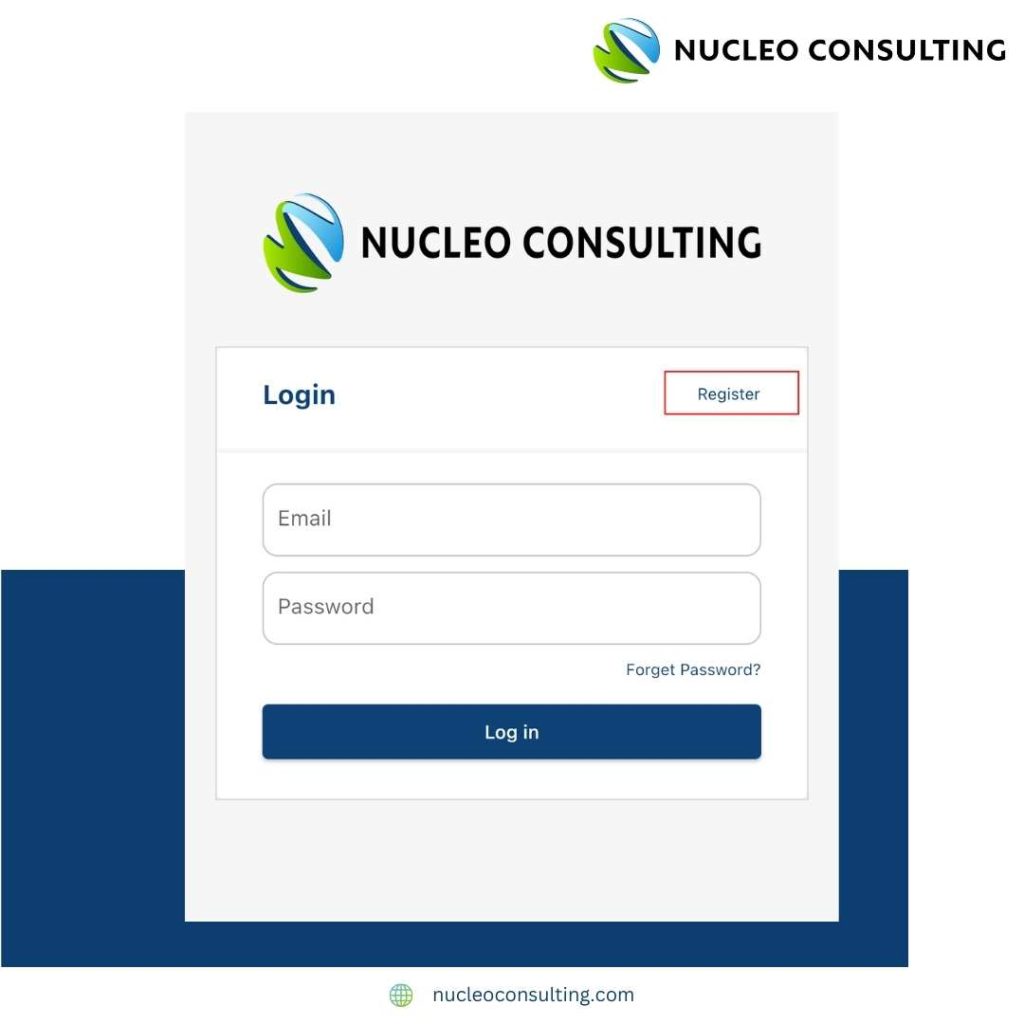 For new users, click on 'Register' to register for a new account.
For existing users, enter your email and password to log in your account.
Corporate users will have to register your accounts using your work email.
Individual users will have to use your personal email to register your personal account.
When logging in the first time, you will be asked if you would like to enable notification. Please allow notifications for Nucleo Connect as we will be posting notices, news flash, promotions and important updates via notifications.
---
Dashboard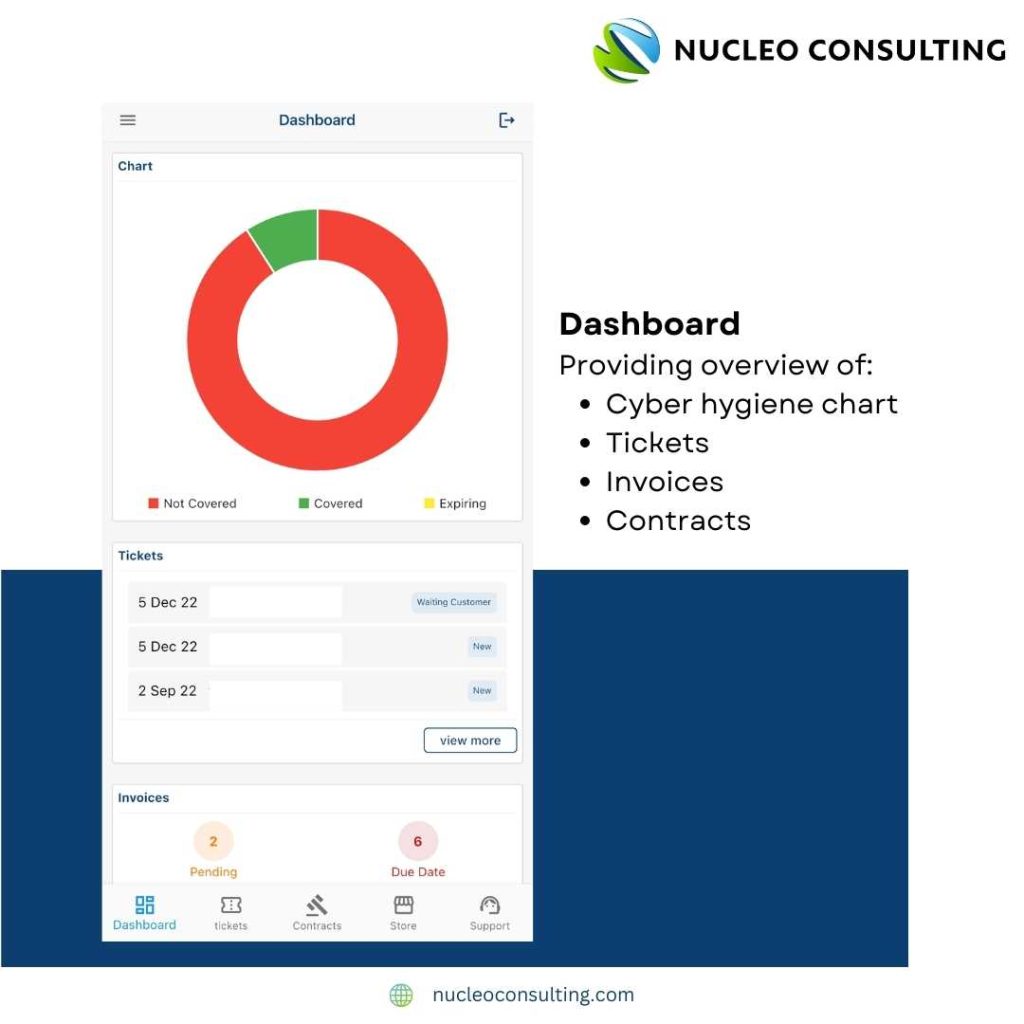 Once you're logged in, you'll see the dashboard as shown above. It provides an overview of your cyber hygiene ratings (chart), the status of all the tickets you have logged, invoices, and all your contracts with Nucleo Consulting.
Red: Indicating essential services compliant to cyber hygiene best practices that is not covered.
Green: Indicating essential services compliant to cyber hygiene best practices that your company have with Nucleo Consulting.
Yellow: Indicating existing service contracts which are expiring and up for renewal.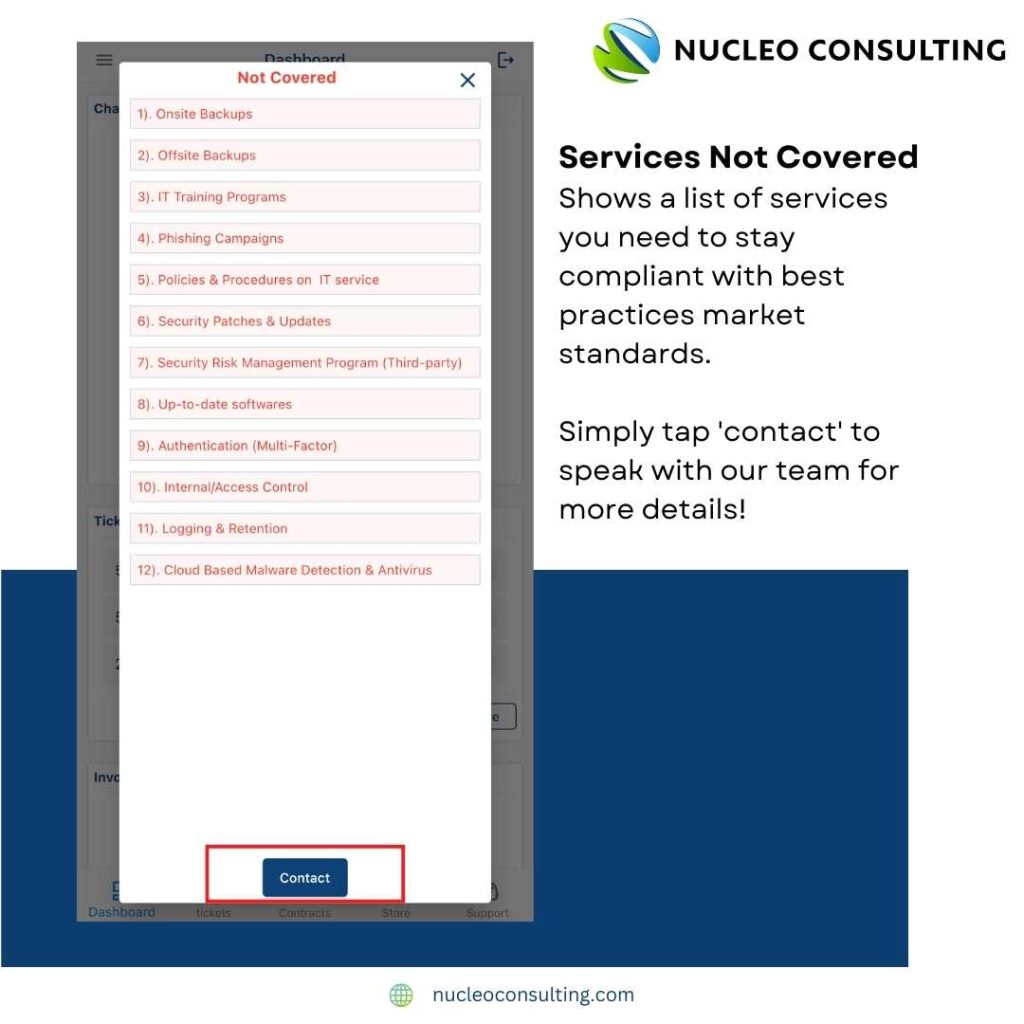 By tapping on the red portion (services not covered), you can see the services that you need to stay compliant with cyber security best practices. Simply click on 'Contact' to get in touch with our team for more information on these services.
---
Tickets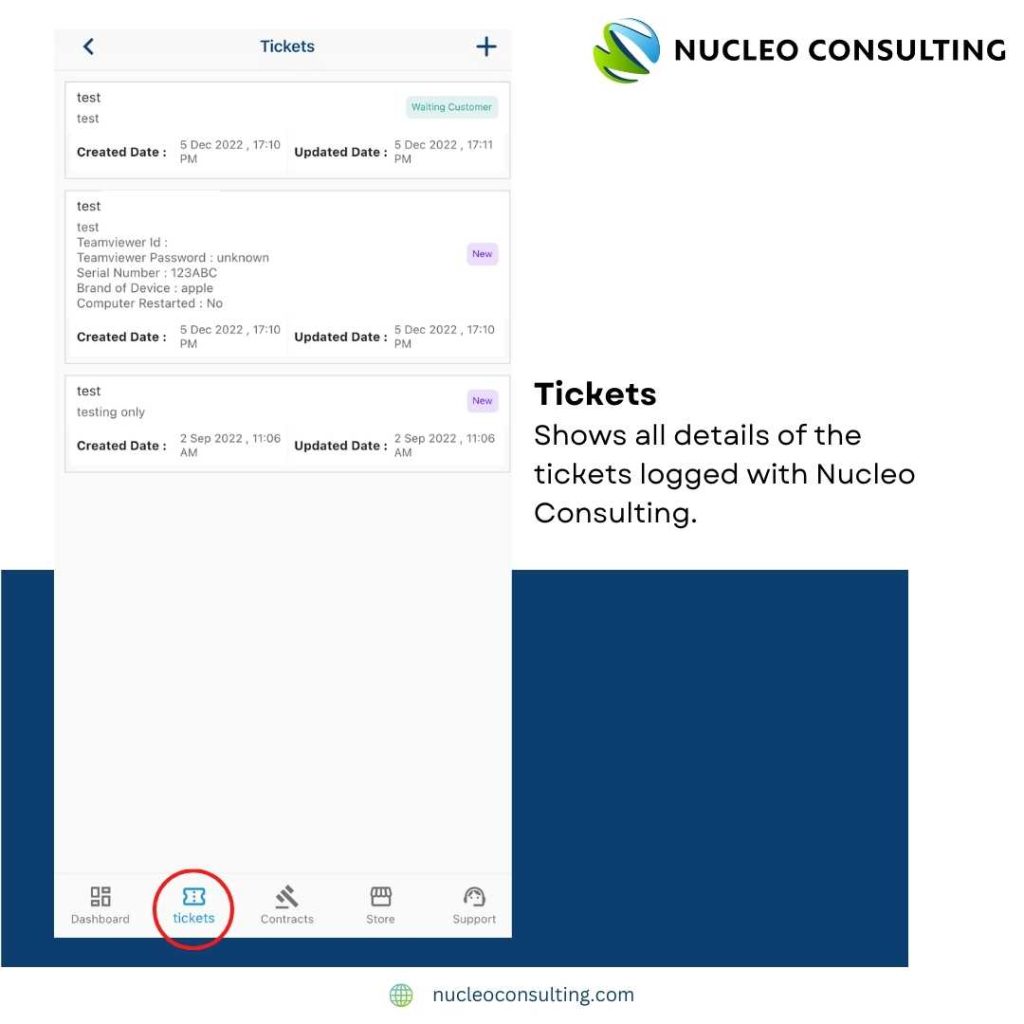 The tickets tab is where you can log a ticket, or see all the active tickets you have logged with our engineers. Under this tab, you can log a new ticket, reply to a ticket, or view what was communicated with our engineers.
To create a new ticket, tap on the + on right top corner of the screen.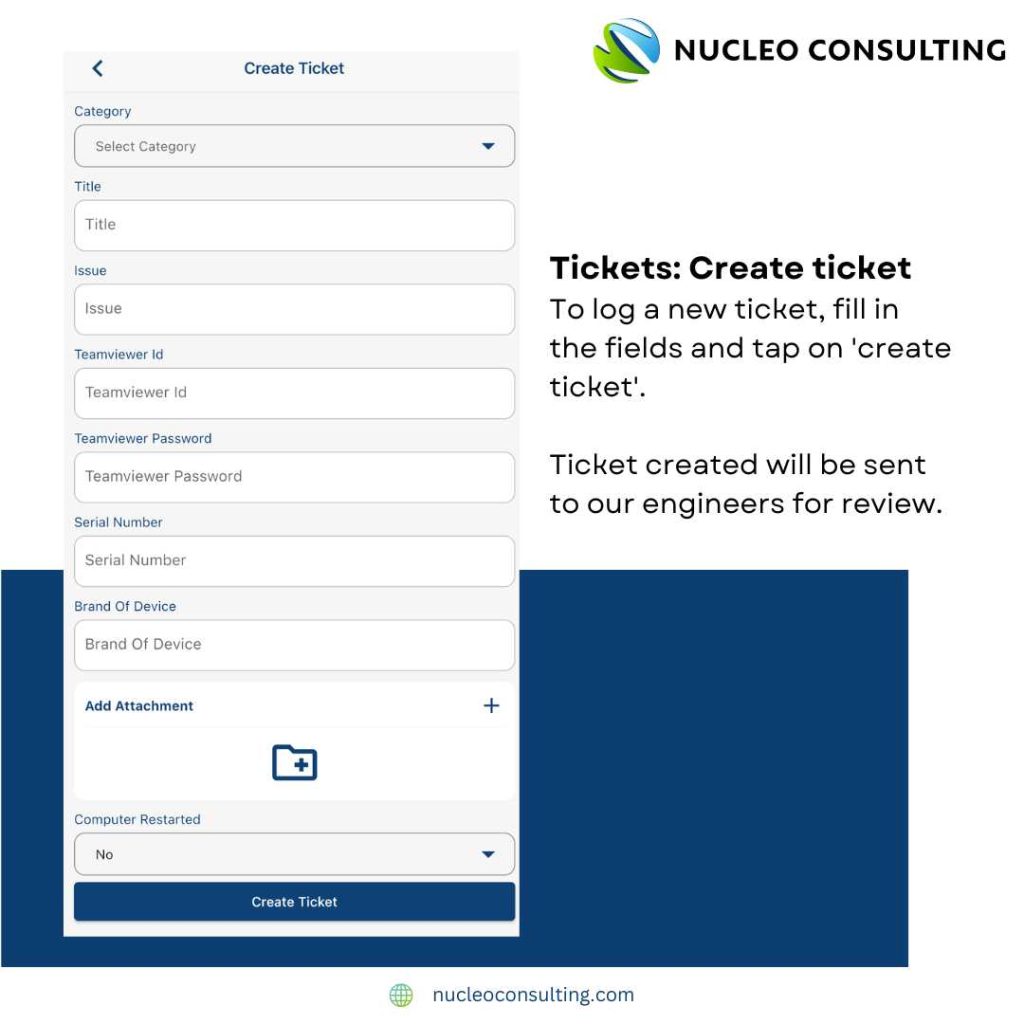 Category: Choose Support, Sales, and Accounts depending on what is the nature of the issue you're logging.
Title: Brief description on the issue (example, "Email login issue", or, "Notebook issue".)
Issue: Elaborate the issue with details (example, "unable to login to my email", or, "unable to power up my notebook")
Teamviewer ID & Teamviewer Password: All PCs setup by our engineers should have TeamViewer software installed. For users who does not have TeamViewer installed, click on the icon below to download TeamViewer.
After installation, the icon will be visible on the top left of your screen, launch the TeamViewer application and you'll see your ID and password.
Serial Number: Serial number of your device can be usually found on the bottom or at the back edge of your laptop. Apple Mac users can find your serial number by clicking on the Apple logo (top left corner) > About this Mac> Overview.
Brand of Device: Indicate the brand of the device that is having the issue.
Add Attachment: We encourage you to share screenshots or pictures of the issue to help us understand more on the issue. Pictures such as the error messages, cables connected or connected devices can be helpful to our engineers. Attachments can be selected from your phone, or choose camera function to take a picture.
Computer Restarted: To inform our engineer if you have restarted this device since the issue occurred.
After you have tapped on 'create ticket', your ticket will be send over to our system, where our engineers will review your ticket and get in touch with you. You may view the updates on your ticket either on the dashboard> Tickets, or directly under the tickets tab.
---
Contracts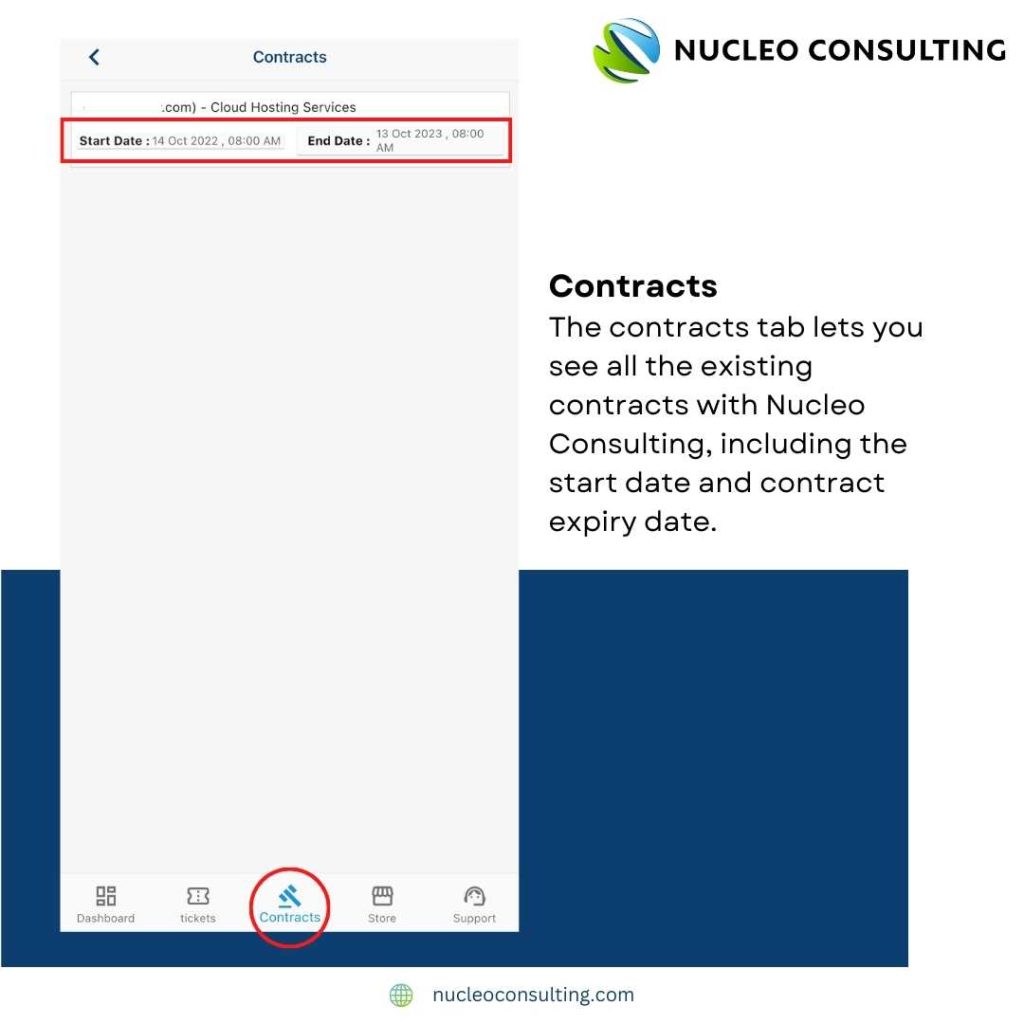 Under the contracts tab, you can view all your existing service contracts with Nucleo Consulting.
You can view the type of contract, the start date and the expiry date here.
---
Store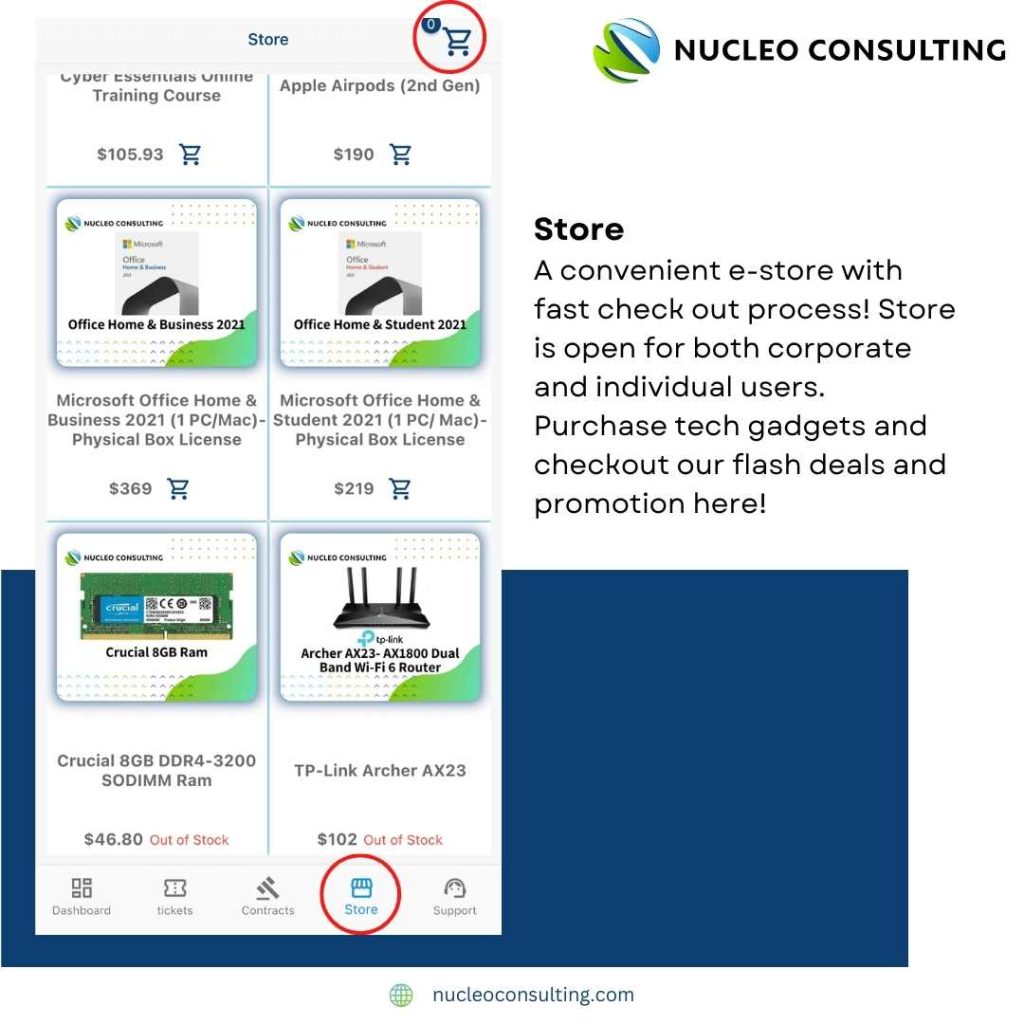 The e-Store is available for both corporate and individual users. Purchase latest tech gadgets and check out our flash deals and latest promotions here!
Once you're ready to check out, click on the cart icon at the top right corner to proceed with checkout.
---
Support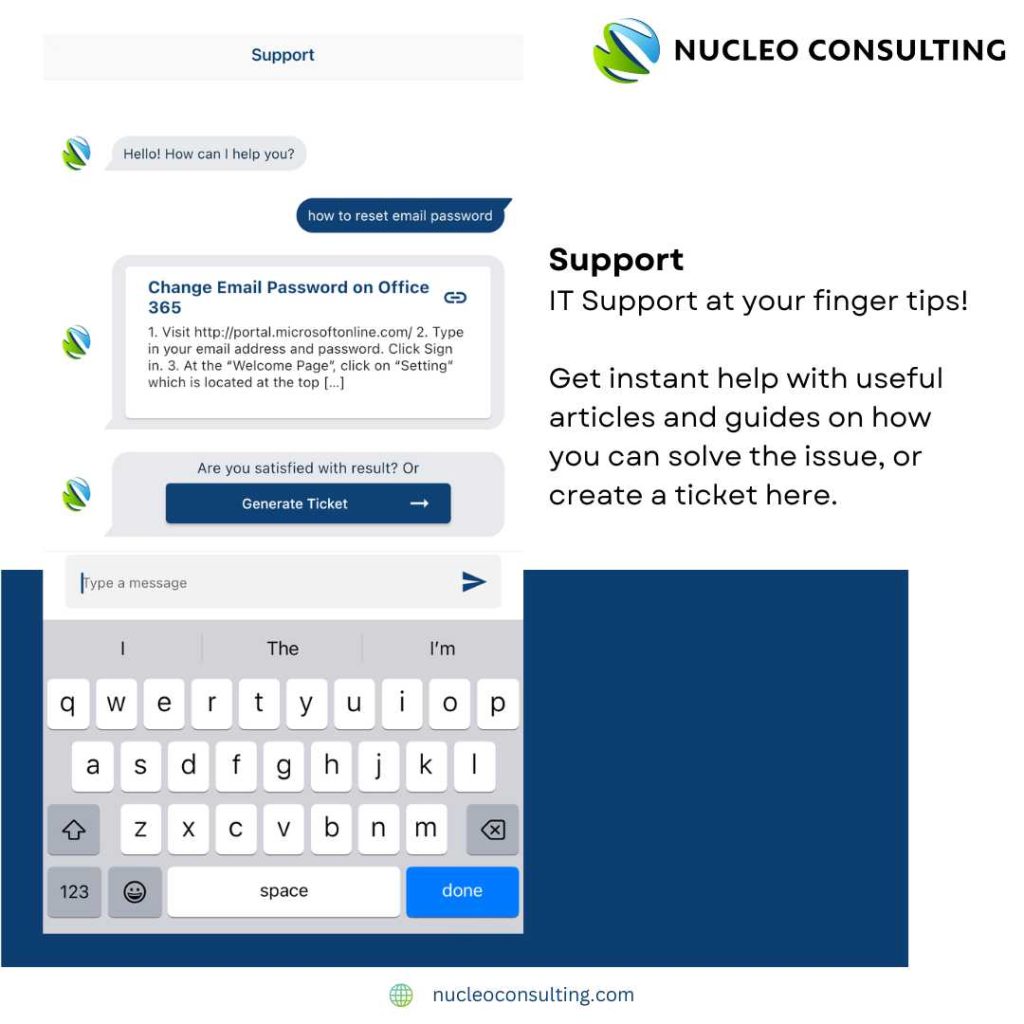 One of the most important feature of the Nucleo Connect mobile app.
This feature allows you to get instant help with useful articles and guides to resolve your IT issues. Just in case the guide isn't the answer you're looking for, you may generate a ticket directly in this tab.
---
With months of hard work, Nucleo Consulting hopes to close the gaps between IT support and our clients. Equipped with an easy-to-read chart, we hope to provide clients with a better understanding on their cyber hygiene ratings comparing it with the market's best practices standards.
For any feedback relating to Nucleo Connect, please click here or click on the button below to contact us.
---
IT Tips | Cyber Security | Nucleo Connect | Guide for clients