[3 mins read]
In this era where technology has become a necessity in our lives, the Information Technology (IT) department is probably one of the most important departments of a business. Most of us wouldn't know what exactly is happening in the IT department. Surely, your fellow colleagues aren't just there to fix your computer issues!
Resolving computer-related issues or installing new software is just the tip of the iceberg. The responsibility of an IT department varies from different companies, depending on the nature of the business and its requirements. Some companies may require massive IT network equipment, while others may keep it lean.
One of the most important factors in a successful business is productivity. Many of our work processes today have been digitized/ automated for greater convenience and efficiency. The IT department is usually involved in providing recommendations, support, implementations, maintenance, monitoring, and resolution to the business' network infrastructure. On top of these, they must ensure the smooth flow of the work processes and functionality. An IT department will also ensure that the company stays compliant with any policies or regulations.
Besides rebooting your computer or resetting your forgotten passwords, these are some responsibilities of an IT department you may not know of: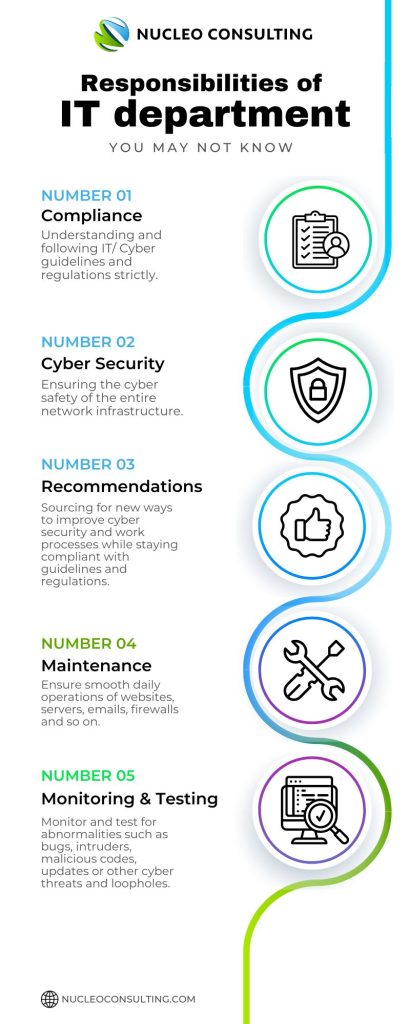 Compliance
Yes, there are cyber laws and legislations businesses must comply with. One of the most important responsibilities of your IT department is to follow these regulations and guidelines strictly for the implementation of your network infrastructure.
Depending on the industry you are in, your business may be required to stay compliant with several guidelines and regulations. Some of these include the Personal Data Protection Act (PDPA), the MAS Technology Risk Management Guidelines (TRM or TRMG), the International Organization for Standardization (ISO), BizSAFE, and more. Although not all of these are mandatory, businesses are strongly encouraged to follow the guidelines as applicable.
Security
Cyber Security- One of the top-grossing topics among IT professionals. This is also one of the key responsibilities of your IT department. It is not just to ensure that your computer is installed with antivirus software.
Not all heroes wear capes! An IT department is usually the one who is responsible for the safe cyber workspace for the whole company. They are always actively looking out for upgrades/ new equipment to strengthen your cyber defenses to ensure a safe working environment for your business.
Proposal/ Recommendations
Your IT colleagues are probably one of those who stay tuned to the new tech trending. Apart from discovering new equipment and ways to improve productivity and efficiency for your company, they are usually the ones who know when it's time for an upgrade.
Your IT department usually knows your company best. They would usually find a solution, new software, or implement new ways to improve your business operations or cybersecurity.
Maintenance
Not all updates are automated and are certainly not as straightforward as you think. Some updates require testing before deployment. This is to ensure that your work processes remain smooth even after that update. IT departments are also responsible to maintain the health of all IT hardware, software, network equipment, and other IT devices. Not only do they have to make sure all the equipment is running smoothly, but they would also have to ensure all backup and software licenses are valid. Keeping track of all the IT services and licenses you may have within your company. This could include services such as website hosting, email hosting, database hosting, security software, email security software, or the hardware you're using daily.
The maintenance of some network equipment may only be done after office hours to ensure zero downtime for your business. This could include patching for your servers, Network Attached Storage device (NAS), backup servers, web servers, firewalls, and more.
Monitoring & Testing
One of the other important tasks of an IT department is the monitoring and testing process. They monitor for bugs, intruders, malicious codes, or any abnormalities within your network infrastructure. Network equipment and software may be used for this purpose, such as a firewall and a remote monitoring manager.
One of the testing methods you may have heard of is the VAPT (Vulnerability Assessment and Penetration Testing). VAPT is an assessment of the whole network infrastructure to identify any cybersecurity loopholes. It is used to help companies comply with regulations and guidelines to avoid breaches and to improve the company's cyber security. VAPT is usually outsourced to other companies, as companies cannot be checking on themselves. But it is the IT department's responsibility to make sure they are ready, and the testing goes smoothly.
---
An IT department is one of the important pillars supporting the whole company. Even if they may appear to be doing nothing, actual fact is, there are many things going on behind the scene to ensure everything is smooth sailing throughout the day!
Hiring your own team of IT professionals may be costly. Imagine the cost required to hire different levels of IT engineers to cover various areas of IT, versus hiring a managed IT outsourcing team who covers a whole range of skill sets required. Most small and medium enterprises (SMEs) outsource their IT department, which would be more cost-efficient for them in the long run. Depending on your company's requirements, an IT consultant or outsourced IT support may provide co-location services, web and email hosting services, and loan/ rental of network devices. In the long run, saving you space, money, and time while improving your business productivity and cyber security.
---
---
Cybersecurity | Cyber Safety | Email | Internet | Firewall | IT Tips | Cyber Defenses |