In recent years, Cyber Security has become one of the hot topics circulating among businesses and individuals.
In Singapore, the authorities have also been sharing news and tips to spread awareness on the red flags to look out for, to avoid becoming the next victim of a cyber attack. The Singapore Police Force (SPF) had also released an advisory on business impersonation emails in view of the increasing phishing cases reported since the start of the pandemic. Any form of these cyberattacks will be destructive, especially for businesses.
More often than not, business owners tend to believe that having Antivirus software or Firewall installed in their network is sufficient to keep all the cyber threats at bay. However, cyber-attacks often starts from nonother than the user themselves.
Cybercriminals have their own creative methods to attract these unwary users to fall into their traps, which is why it is crucial for businesses to look into their email security and educate the employees on cyber awareness. The business owners can install all sorts of security 'gates' to secure the business, but should not overlook providing sufficient knowledge to employees to ensure the safety of your cyber workspace.
Employees are the company's 'First-Line of Cyber Defenses'. Ensuring that the employees are trained with cyber essential knowledge, would greatly reduce the risk of compromising the cyber security for the business/ organization, and allow them to spot and report any suspicious activities before it becomes inevitable.
---
Productivity Solutions Grant (PSG grant)
In hopes of providing adequate assistance to SMEs in Singapore for their digital transformation and upgrade, the Singapore government introduced several grants for eligible SMEs to tap on. Nucleo Consulting has also come up with 2 PSG pre-approved solutions, where eligible SMEs can get subsidies to beef up their cybersecurity for the company.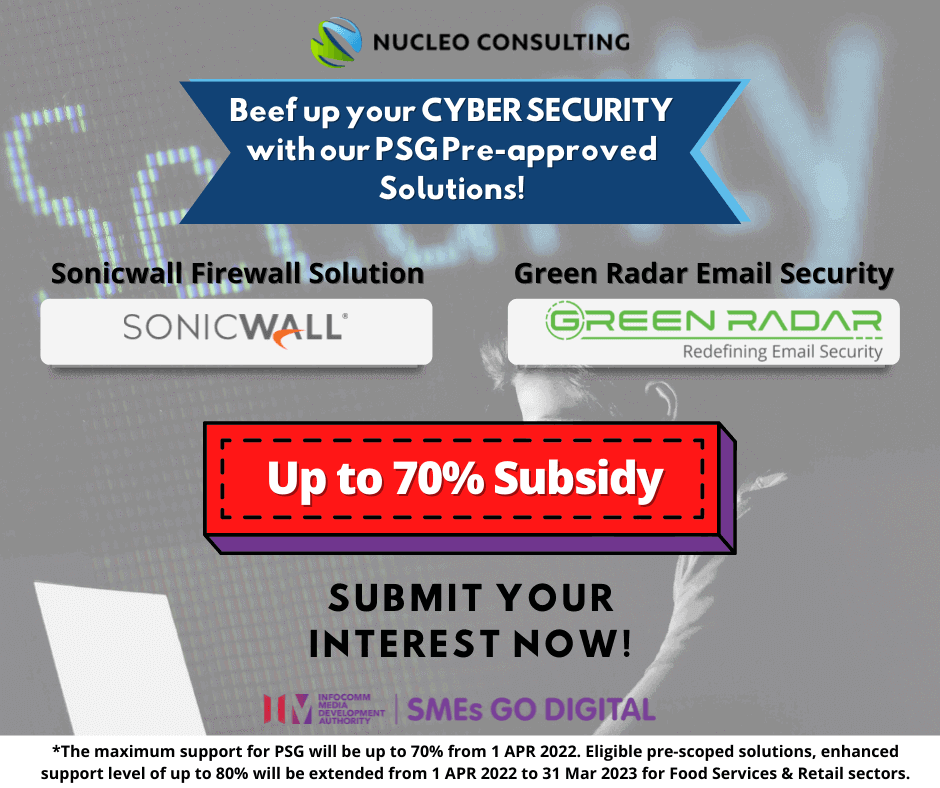 The maximum support for PSG will be up to 70% from 1 April 2022. Eligible PSG pre-scoped solutions, enhance support level up to 80% will be extended from 1 April 2022 to 31 Mar 2023 for Food services and Retail sectors.
---
PSG- Sonicwall Firewall Solution
Firewalls are often mistaken to be only necessary for large corporations/ businesses. Most SMEsThe fact is, a firewall has become an essential component for every business, no matter how big or small your company is. As long as your business has a network and IT equipment that wants to be protected against cybercriminals, this component is absolutely necessary and should not be missed out.
As reported by the Cyber Security Agency of Singapore (CSA) in July of 2021, there were 16,117 cases of cybercrimes in 2020, up from 9,349 cases recorded in 2019. This figure is expected to rise as technology advances and users rely more on technologies in their work and daily life.
Beef up your company's cyber security to protect against hackers, viruses, and worms on the internet with our Sonicwall TZ Series (Gen 7) Firewall. Click on the button below to sign up for your interest in our PSG Sonicwall Firewall Solution today!
---
PSG- Green Radar Email Security with Cyber Essentials Online Training Solution
Cyber threat is ever-evolving, and cybercriminals will always come up with new techniques to target unwary users. This package includes an email security solution to block out these threats before it reaches your inbox, and also comes with Cyber Essentials Training (e-Courses) for your employees, to equip them with the right knowledge on Cyber Awareness.
Green Radar offers comprehensive email protection technology which is managed by a team of security experts in a dedicated Security Operations Center in Hong Kong and Singapore. Their cloud-based email security technology blocks out email-borne cyber threats such as bulk spam (spam emails), viruses, malware, spoofing emails, and phishing emails, and is fully compatible with Microsoft 365 & Google (G Suite).
The Cyber Essentials Online Course is a fully online e-training for your employees. Contents are accessible everywhere and anywhere you are, as long as you have a stable internet connection. This is an informative, user-friendly, and interactive online course where users will have unlimited access for 1 year.
Best of both worlds in ONE PSG pre-approved solution. Click on the button below to sign up for your interest now!
---
cyber attack | cyber safety | importance of cyber security | hackers | cyber security | PSGgrant | Productivity Solutions Grant | Email Security | Scams
---