Travel in the last two years has been difficult. Whether it's for business or for the vagabond in you, the pandemic hampered our travel pursuits big time.
Across the Asia-Pacific region, international tourist arrivals were down 95 percent in the first five months of 2021, compared to the same period before the pandemic in 2019, according to the UN World Tourism Organization.
Several nations in the Asia-Pacific region are moving away from zero-Covid strategies toward living with the virus — and thus loosening up their borders. On October 10, Singapore added eight new countries, including the US and the UK, to its vaccinated and quarantine-free travel lanes. Not only this, Singapore will allow quarantine-free entry to travelers vaccinated against COVID-19 from Australia and Switzerland from Nov. 8, as informed by the city-state's aviation regulator.
International travel has right now resumed with destination countries imposing new requirements for visitors such as proof of COVID-19 vaccinations, use of track-and-trace apps, and quarantining upon arrival. Though it's a positive sign, what does it mean for threats?
As exciting as a good getaway is, it's important to remember that traveling can also make us more vulnerable to cyberattacks. Threat actors will likely exploit the confusion surrounding travel arrangement requirements to target not only business travelers but also those on vacation or traveling for leisure—especially airlines and hotels.
When traveling internationally, remember that your mobile phone and other personal communications devices transmit and store your personal information, which is as valuable as the contents of your suitcase, and possibly more so.
---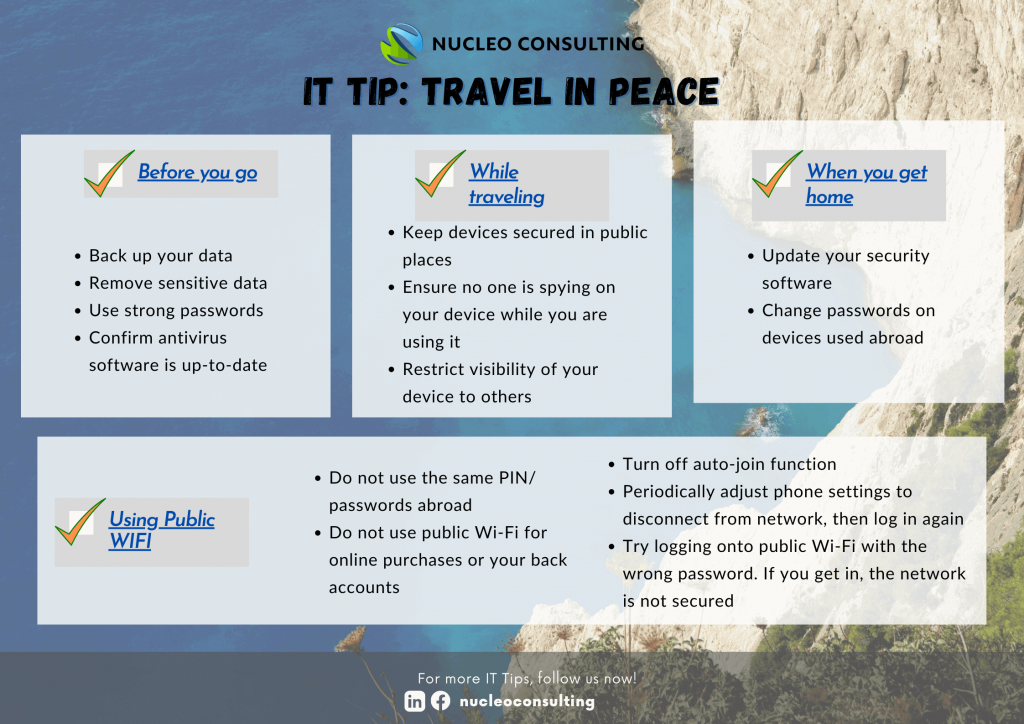 Before you go
Take proactive steps to secure your devices and your personally identifiable information (such as your name, address, date of birth, and Identification numbers) before you travel. Leave at home any electronic equipment you don't need during your travel. And, if you take it, protect it. Be sure to:
Back up your electronic files.
Remove sensitive data.
Use strong passwords.
Confirm antivirus software is up-to-date.
---
While traveling
Be vigilant about your surroundings and where and how you use your devices. Make sure to:
Keep your devices secure in public places such as airports, hotels and restaurants.
Take care that nobody is trying to steal information from you by spying on your device screen while it's in use.
Consider using a privacy screen on your laptop to restrict visibility.
---
Be cautious while using public Wi-Fi
Some threats – device theft, for example – are obvious. Others, though, will be invisible, such as data thieves trying to pick off passwords to compromise your personally identifiable information or access your accounts. You may be especially vulnerable in locations with public Wi-Fi, including internet cafes, coffee shops, bookstores, travel agencies, clinics, libraries, airports, and hotels. Some helpful tips:
Do not use the same passwords or PIN numbers abroad.
Do not use public Wi-Fi to make online purchases or access bank accounts.
When logging into any public network, shut off your phone's auto-join function.
While using a public Wi-Fi network, periodically adjust your phone settings to disconnect from the network, then log back in again.
Try purposely logging onto the public Wi-Fi using the wrong password. If you can get on anyway, that's a sign that the network is not secure.
---
When you get home
Electronics and devices used or obtained abroad may be compromised. Your mobile phone and other electronic devices may be vulnerable to malware if you connect with local networks abroad. Update your security software and change your passwords on all devices on your return home.
---
Conclusion
The threat of cyber-crime is very real, and the probability of that threat increases when we are vulnerable. That is why a good cybersecurity mindset while traveling is a must. Whether you are traveling for work or vacation, be sure to practice these tips and proceed with caution.
---
---