Spring cleaning is a tradition for Chinese families to clean out the house and their environment. It symbolizes cleaning away 'bad luck' of the previous year and getting ready for a new start in the new year.
Our phones have became a necessity, but not many people spring-clean their phones. Spring cleaning your phones can help prevent your phone from slowing down, save storage space, prolong the battery life and optimize the performance of your phone. Here are some tips on how to spring clean your smart phones: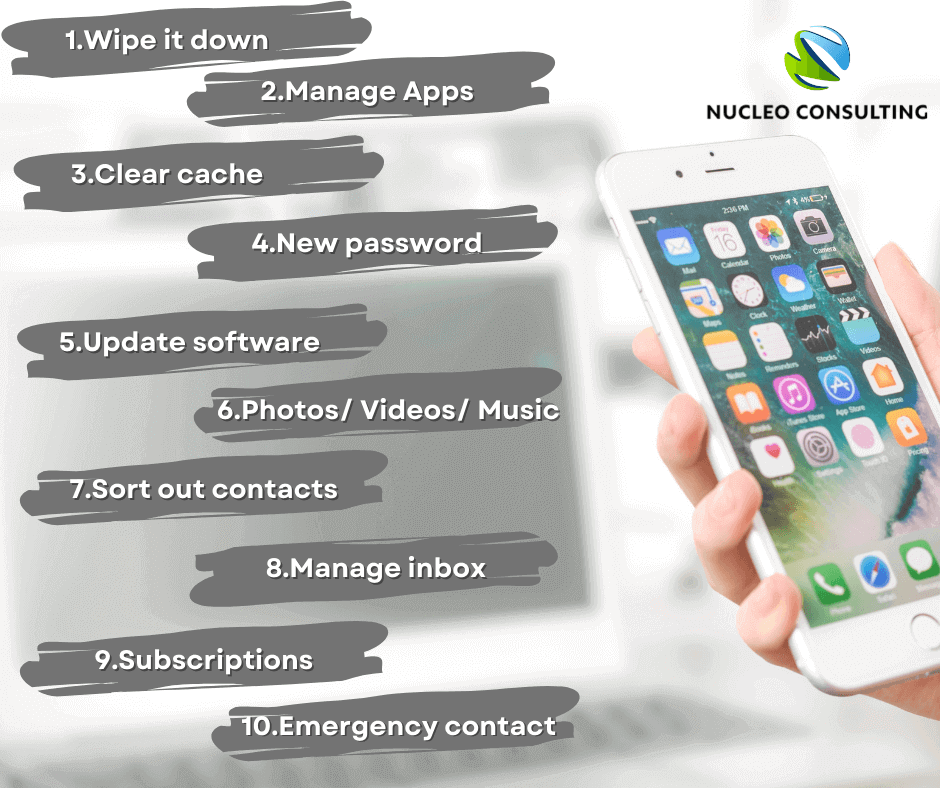 1. Wipe it down
Well, for most of us, our phones are one of the few items we can't live without. It's also one of the items we constantly hold onto daily! Even with screen protectors and phone covers, your phone may contain millions of germs and bacteria! It is recommended to give it a good wipe down once in a while. To freshen up, get new phone cases and screen protectors and make it feel like new again.
2. Manage your Apps
Study shows that users only uses 3 applications regularly. Getting rid of those mobile applications that you have not utilized in years would save you some storage and potentially speeding up your smart phone.
Grouping the applications would help the home screen to look so much neater and you'll find it easier to navigate your phone too!
3. Clear cache
Cache refers to the stored data, files or login details in a temporary location so that the software, application or web browsers can retrieve them faster and speeding up the loading time. You may have information stored for some website you no longer visit over the years. Clearing out these cached data might save you some storage space on your devices!
4. New password
When was the last time you changed your password? When it comes to passwords, we always recommend a strong one. A strong password refers to one that a hacker can't guess or crack easily. A strong password should be at least 8 characters long (the longer the better!), consists of upper and lowercase letters, numbers and symbols, and should not be based on any of your personal information such as date of birth or anniversary date.
5. Check for software updates
Software updates usually includes important security patches, bug fixes or new enhanced features for your devices. Keeping your software up-to-date will ensure optimal performance and prolong the lifespan of your devices.
6. Manage your photos/ videos/ music
Photos, videos and music files takes up a lot of spaces in your phones. If you have been subscribed to music streaming applications such as Spotify or Apple music, there should be no reason to keep those music. Photos and videos that you want to keep as memories may be backed up to cloud or external drives (Harddisk, NAS). Don't forget to look in the media folders in your WhatsApp! They may save you a lot more storage space than you think!
7. Sort out contacts
Only you can tell which to keep and which to ditch. Scroll down the contacts list and you might find some old contacts that is no longer in use!
8. Manage inbox
Yes, we meant all the inbox! Unsubscribing from marketing emails, clearing out spam emails and deleting those emails you don't need (from years ago!). Go through your messages inbox (SMS), are there a few spam messages that you have not blocked/reported?
9. Check on your subscriptions
Check and unsubscribe from the paid applications which you do not need. This will not only save you storage space but will save you some money too!
If you're using iPhone/iPad, go to 'settings', tap on your name and select 'subscriptions'.
If you're using android, go to 'settings'> 'Google'> 'Manage your Google Account' > 'Payments & subscriptions'.
10. Update emergency contact
For your own safety, check that the contact person in your emergency contact is updated!
For iphone users, click here.
For Android users, click here.
---
---
ITtips | Springcleaning | Smartphone
---