The Network- Attached Storage, or NAS in short, has been providing us with great convenience since the 90s. This invention has been providing homes and businesses with convenient file storage solutions for decades and has constantly upgraded to fit the needs of the ever-growing IT industry. Although a NAS is no longer a stranger to most companies, the owners of some SMEs and traditional businesses in Singapore still find themselves trapped in a dilemma, if a NAS is suitable for their business operations.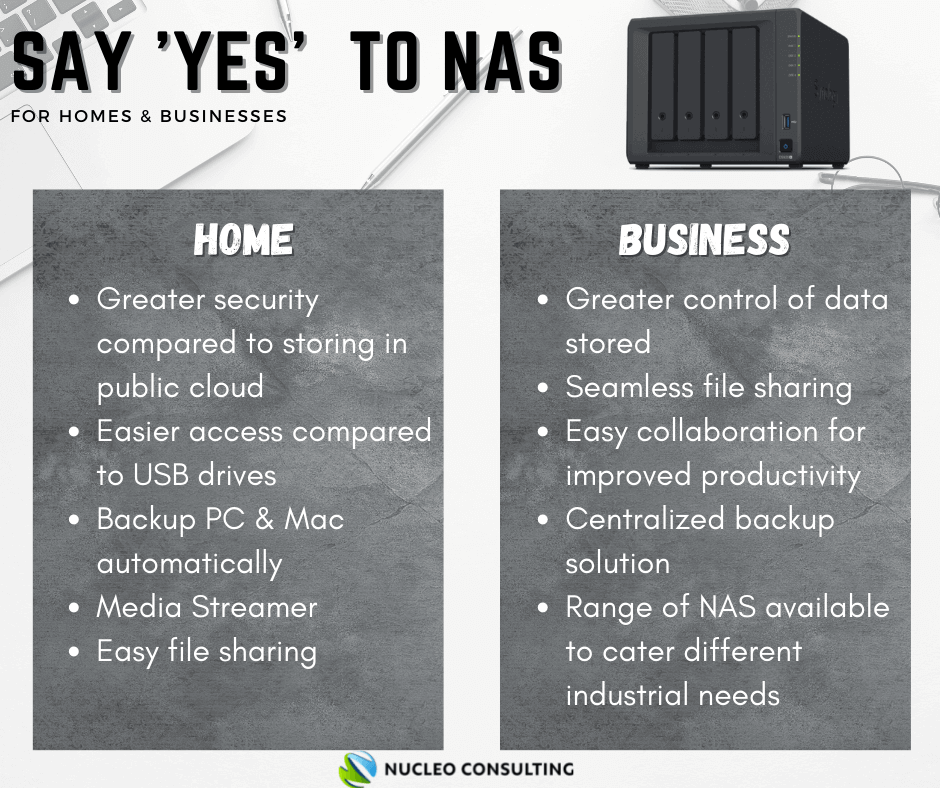 A NAS for your nest
With the influence of social media platforms such as Instagram, Facebook, and TikTok, many of us developed the habit of taking multiple photos and videos every day. Sharing the photos of nice food we had, a celebration of special moments and other events of our lives among our friends and family.
However, there is a limit to how much your phones and cameras can store these wonderful photos. Are you storing it across different devices or are you paying for additional storage space for storing these files on the public cloud solutions?
Here's why you need a NAS at home:
Everyone in your household can store photos, pictures, videos & files in the same NAS
Each user may have their own personal storage folder & have control over who has access to these folders
Store files on your own personal NAS instead of public cloud services for more privacy
One-time purchase of the device instead of recurring subscription for storage space
Offsite access for greater convenience
Without the need to carry the device around, it lowers the risks of losing data as compared to a USB drive
Watch videos from PCs, Apple TV, Android TV, or mobile devices directly without copying out files between devices
Share file links or create file requests and a link will be generated. Your friends may follow the link to download the file even without a DSM account
---
A NAS for office
File storage solutions don't have to be expensive. Especially for small businesses, a NAS provides an affordable file storage solution to backup data, share files and work collaboration on their files. A NAS is easy to use, which suits most companies even if they do not have dedicated in-house IT support. It also comes with a wide range of specifications, catered to match the demands of different businesses.
Here's what a NAS can do for your business:
---
YES or NO?
With the benefits listed above, a NAS seems like a must-have in homes and businesses in the modern era. It certainly is a cost-effective solution to solve the storage issues of our ever-growing data. No matter for home use, small businesses, or large enterprise, the wide range of selections will ensure a perfect match for your requirements. Some models even come with expansion units to add on if the existing storage space ever runs out.
Click here to find your perfect NAS, or simply click on the button below.
---
---