Being in an environment where most people are equipped with multiple smart devices, a Network Attached Storage (NAS) seemed to have become a must-have item even for smart homes or small businesses. For decades, many homes and businesses have used a NAS for the file storage solution. Known for its convenience and user-friendliness, it is a popular choice for storing data, sharing files, and seamless work collaboration between staffs.
When choosing a platform for storing files and data, security always plays an important role. As we always emphasis, cyber security should be a priority for all home and business users. No one is safe from cyber threats and the results of any compromised devices or data will be destructive.
---
Follow these simple steps to protect your NAS!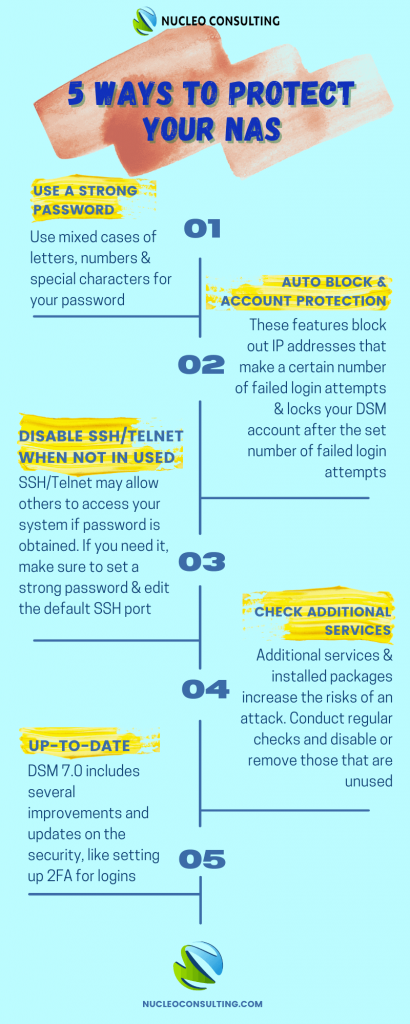 Using A Strong Password
Change your password to a stronger one by ensuring that it includes at least 10 mixed-case letters, special characters and numeric digits. Avoid using common password that may be easily guessed and make sure never to reuse any old passwords. You may consider making use of C2 Password, which comes with services such as credentials management, for Password generation and Password strength detection.
2. Auto Block & Account Protection
Auto Block blocks out IP addresses after certain number of failed login attempts were made. Best of all, this process is automated. Account Protection, on the other hand, locks up your DSM account if the number of failed login attempts were met. Both the Auto Block and Auto Protection function can be enabled in the DSM control panel.
3. Disable SSH/ Telnet When Not In Use
SSH and Telnet may allow others to access your system if your password is obtained. It is recommended to keep them disabled when not using it or, if absolutely required, ensure that a strong password is set, and edit the default SSH port (22).
4. Check Additional Services
Additional services or 3rd party packages installed on your NAS may increase the risks of a potential cyber attack. Conduct regular checks and ensure unused services/ packages are disabled or removed for better security.
5. Up-To-Date
Ensure that your NAS is updated. DSM 7.0 includes several improvements and new security features. One of which is the Secure SignIn application, that allows logins with 2FA (Two Factor Authentication). DSM 7.0 supports FIDO2-compatible hardware keys for better security.
---
Maintaining Your NAS
All devices need to be maintained. Maintenance for your NAS is crucial as it often contains files and data which are important to the users or the company. IT managers or IT consultants should ensure that your NAS is up to date, do regular checks on the NAS performance, storage status, and check for system updates for your NAS. Your IT manager or IT consultant should monitor the services and packages used, and check for any abnormal issues affecting any services which are important for your business operations.
Even for small businesses without an IT support team, it is recommended to consult with a professional IT services company, or companies providing IT outsourcing services, on maintaining your network devices to ensure your cyber defenses against cyber threats. No device is 100% safe, and as always, it's always better to be cyber safe, than sorry!
---
---