With the current Covid-19 restrictions, many of us are restricted to our home as companies abide to work-from-home (WFH) arrangements. Many schools have also started introducing home-based learning (HBL) for students during the circuit breaker last year. Schools returned to this arrangement when there was a sudden increased of cases among students during Phase 2 Heightened Alert, and continued this arrangement to control the total number of student attending lessons in schools.
With WFH and HBL turning into a norm, many parents became worried about the cyber security for their child. We hope to remind all parents out there, that it is always better to keep the cyber space safe, than sorry.
Tips for a safer cyberspace for your child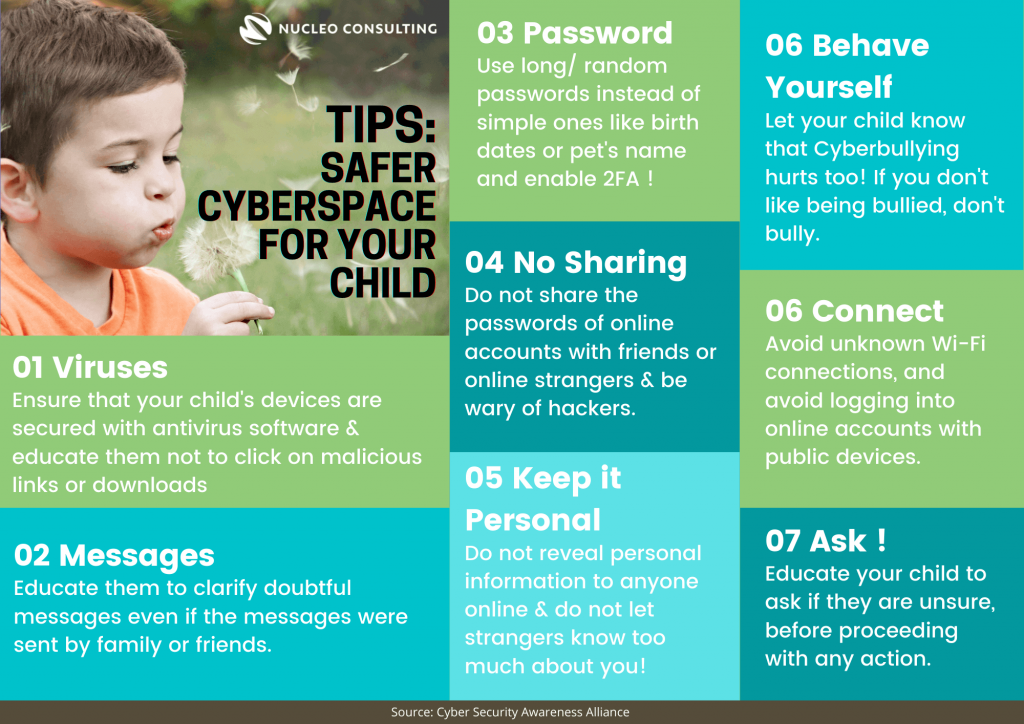 Click here to read more
---
Managing Your Child/Teen's Accounts
Some features within the applications enables parents to have more control over the child's online account. These features enables you to monitor or restrict what your child does or sees online. Some platforms provide parents with guidance to educate both parents and the child/teen on the safety of these platforms.
Google
Google has been 1 of the top sites to visit if you're looking for information online. Students have also used google to obtain information and research for their projects or assignments. Google allows parents to use the parental control features to manage your child's activity on Chrome via the Family Link app. However, this app only works on Android devices or a Chromebook. Some features of the Family Link app won't work if your child is using iPad or iPhones.
YouTube
The Family Link app allows you set rules and manage your child's screen time, monitor their activity, manage their apps and even lock their devices.
YouTube kids provides a more controlled environment for younger kids to explore and makes it easier for parents to manage the contents their child exposes to. This application allows signed in parents to register a separate profile for each child, however, this feature is only available on devices the parent is signed in and the YouTube Kids app is installed.
Social Media
Many parents are unaware of the social media age restrictions, even to date. The age restriction for using platforms such as FaceBook, Instagram and SnapChat is 13 years old. Some games encourages linking up the game accounts with social media acocunts such as FaceBook, so as to encourage users to share the winning result or in-game snapshot of the game. Some of the games even reward players with gifts in game when they share it on to their FaceBook accounts, which encourages children to register for a social media account. Although the age requirement is 13 years old, some children may still signup on their own by lying about their age.
It is important to provide guidance and educate your child/teen on cyber security even on social media. Read on guides and tips provided to parents on the social media platforms may help parents manage their teen's social media account better. It is always better to be safe, than sorry.
Click here to read more: FaceBook- Safety Resources for Parents.
---