Switching to a new smartphone can be an exciting experience, but it can also come with some challenges. From security concerns to transferring data from your existing phone, there are a few tips to keep in mind to ensure a smooth transition to your new device. In this article, we'll discuss some important tips to note when switching to a new smartphone.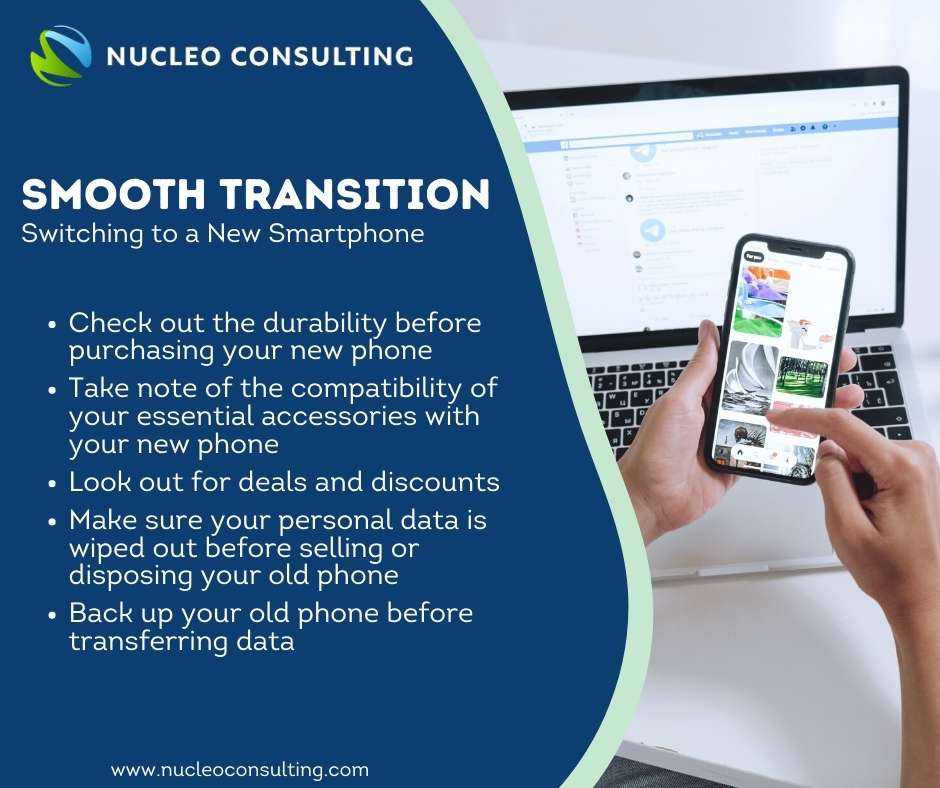 Durability
When choosing a new smartphone, it is important to consider its durability and longevity. Look for a phone that is built with sturdy materials, that can withstand drops and other impacts. You should also consider the battery life of your new smartphone, as having a device that lasts longer will ensure that you don't have to constantly worry about the battery life throughout the day.
Compatibility
Before you jump headfirst into buying that new smartphone, check if your existing accessories like your trusty charger and favorite earphones are compatible with it. There is nothing more frustrating than getting your hands on a shiny new gadget only to realize your go-to accessories don't work with it. So, save yourself time and money by checking compatibility beforehand!
Additionally, it's not just about compatibility, but also about finding the right smartphone that fits your unique lifestyle. Take a moment to dive into the specifications and features of the smartphone. Make sure it's the perfect fit for you so that you won't find yourself in the market for a new one too soon. After all, getting the perfect phone is like finding a soulmate – it takes a bit of research, but the end result is worth it.
Budget
When making the decision to switch to a new smartphone, it is crucial to take your budget into consideration. With the vast selection of smartphones available in the market, it can be tempting to overspend and exceed your budget.
Consumers often have the option of buying the device outright or bundling it with a mobile plan from a telecommunication service provider. While bundling a phone with the subscription plan may seem like a convenient and cost-effective option, it is important to carefully compare the terms of the plan with the cost of purchasing the phone off the shelf. Telcos may offer attractive deals on mobile plan bundles, but these plans often come with a minimum subscription contract period which can be costly. On the other hand, buying the phone outright may require a larger upfront investment, but can often result in greater savings in the long run as SIM-only plans are often more cost-effective than being tied into a contract. Therefore, it may not always be worthwhile to opt for a contract when buying a smartphone, and buying it outright could save you money in the long run.
It is recommended to conduct thorough research and keep an eye out for any discounts or deals available, to ensure that you find a smartphone that fits both your needs and budget.
Personal Data
Before you switch to a new smartphone, it's important to take note of cybersecurity concerns. Your old smartphone likely contains personal data such as photos, emails, and sensitive information like bank account details, passwords, and login credentials. To ensure that your personal data stays safe during the transition, it is recommended to back up your old phone's data and wipe it clean before selling or disposing of it.
You can either use your phone's built-in backup feature to create a backup of your data on the cloud or transfer it to your computer. Once you have finished the backup, you can then factory reset your phone to erase all of your personal information. This process will ensure that your phone is ready to be sold or passed on to another user without the risk of your personal data being compromised.
Transferring Data
Transferring data from your old phone to your new device is an essential step when upgrading to a new smartphone. To make the process easier, most smartphones come with a built-in backup feature that allows you to transfer your data seamlessly via a mobile application. Additionally, third-party applications and cloud services can also be used for data transfer.
It is crucial to remember that conversation histories (messages, files, and media) on communication applications such as WhatsApp may not be saved if only the phone data and applications are backed up. Even though you may have enabled the auto-backup function in these applications, it is essential to check that the backups are up to date. Be sure to back up onto the cloud before the transfer process, just in case you need to restore your chat history for if anything goes wrong.
Before starting the transfer process, it is advisable to do some spring cleaning and decide what data you need to keep and what can be left behind. It is also important to back up your old phone to avoid losing any important information. Once the transfer is complete, take the time to test your new phone to ensure that all your data has been successfully transferred, including contacts, messages, photos, videos, and any other important files or applications. With proper planning and backup, transferring data to a new phone can be a hassle-free experience!
---
Switching to a new smartphone can be a daunting task, but by following these tips, you can ensure a smooth transition. Remember to pay attention to cybersecurity concerns such as transferring data from your existing phone, and making sure it is securely wiped before you sell off or dispose of your old phone. It is essential to choose a smartphone that lasts and make sure to check for compatibility of your phone with all your essential accessories too. With these tips in mind, you will be able to enjoy your new device without any hassle or worries!
---
---
IT Tips | Cyber Security | Cyber Safety | Personal Data Protection | Data Protection | Smartphone